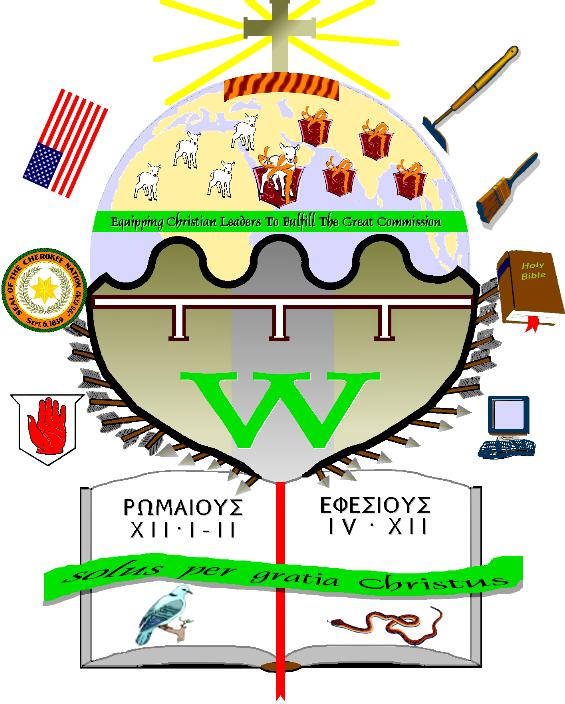 Crest for The Nate Wilson Family
In the year 2005, Josh, Beni, Amos, and Peter Wilson developed this crest for our family. The crown and cross at the top signifies that we believe Jesus is king over all. Underneath the cross and crown is a world map, showing Christ's dominion as well as our interest. Our family's purpose statement lies above the middle of the shield, "Equipping Christian Leaders to Fulfill the Great Commission." The Great Commission refers to Jesus' command to make disciples of all the nations (Gospel of Matthew 28:19-20).
The left side of the shield has has lambs on it, signifying "Mama" Paula, whose name means "small" and by extension "little lamb." The right side of the shield has gifts on it, signifying "Papa" Nate, whose name means "he gave."
To the left of the shield are representations of ethnic background of our family, the red hand of Ulster, the Cherokee seal, and the Flag of the United States of America. (Nate's patrilineal ancestors are traced to Ulster, Ireland, but we are not sure if they would have identified with the red hand.)
To the right of the shield are symbols of the occupations of four generations of Wilsons. Nate's primary tool has been the computer for publishing and correspondence, His father is a pastor, symbolized by the Bible, His father was a sign painter who married a watercolor painter artist. His father came over from Ireland as a young boy from a potato farm, so he is symbolized by a gardening hoe.
Just below the middle of the shield is a three-pronged line, symbolizing that Nate is the first-born of his family. The "W" stands for our family name, Wilson. Around the shield are arranged twelve arrows, representing the children God has given to Nate and Paula.
The foundation upon which all of this rests is an open Bible. This is the basis for truth and ethics in our family. On the left page is the reference for Paula's life verse, Romans 12:1-2, and on the right page is the reference for Nate's life verse, Ephesians 4:12. The names of the Bible books are in Greek letters, since both Paula and Nate have studied New Testament Greek and are teaching it to their children.
The ribbon across the bottom states in Latin, "Only by the grace of Christ," because we believe that anything good that happens to us or comes from us is a gracious gift from God, not something we can take credit for. Also across the bottom are a dove and a snake, representing Jesus' counsel to His disciples, which we also seek to follow, that we should be "as wise as serpents and harmless as doves."
Following are family crests we have developed for our married children: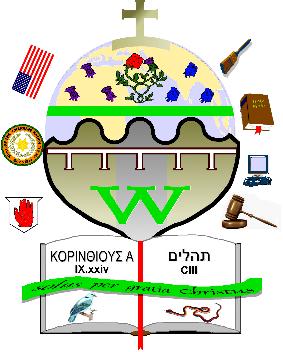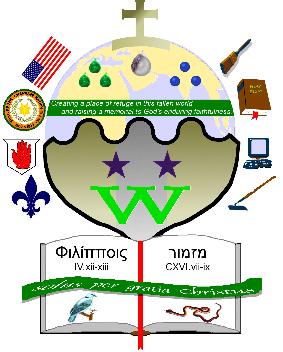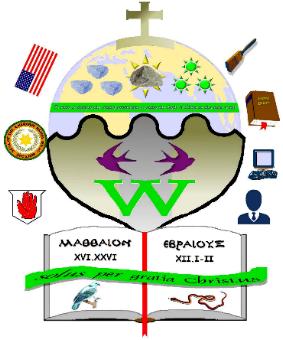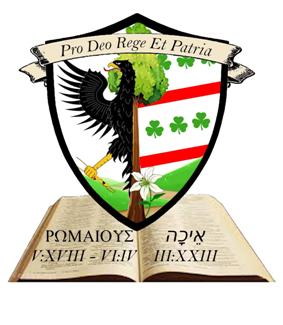 <![if !supportEmptyParas]> <![endif]>
---
<![if supportEmptyParas]> <![endif]>