---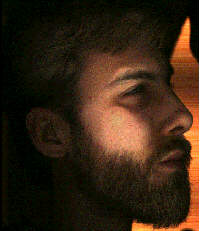 ---
Because most of my previous 7 albums have been focused on particular topics, certain songs that I have composed over the past ten years have never made it onto an album. So here is a home for these songs. I still have not been able to record any of my music professionally; I hope you can enjoy it anyway. So here is an eclectic mix of emotions I've felt over the past 10 years expressed through the sounds of instrumental music as well as different lessons my Lord Jesus Christ has taught me, expressed in lyric songs. May they serve to strengthen your heart with the peace and joy of Christ and the challenge of His Word.
Click on the linked items to hear samples of the music. Each sample is about 35KB and plays for about 15 seconds. To facilitate internet downloading, sound quality has been noticeably diminished from the original recordings. Click here to request a copy of this album on Cassette or CD!
---
SOUND
DELAY 14-120 (©1987)

Just after I got my Delay effect pedal, I piddled around with making echoes, and this is what I came up with. I can't remember what the 14 stands for, but I think the piece is about 120 seconds long.

A NICE CUP OF TEA (©1990)

Somehow I missed the Coffee and Pepsi generations. What I really love on a cold day is A Nice Cup of Tea and quiet time to think and pray.

THE STORMS HAVE PASSED (©1990)

On Lookout Mountain, it can rain for two weeks straight and you never see the sun. It was always such a relief when (usually on a Sunday, for some reason) the clouds would roll away and the sun would once again bathe the fresh earth. This recording was made in two passes, one laying the rhythm and chord structure, and the second standing in front of the synthesizer, guitar in hand, and switching back and forth between them playing melody lines.

HALFWAY THERE (©1990)

I began raising financial support for my mission work in 1990, and that was one of the most difficult things I've ever done! I couldn't even draw any salary until I had raised 50% of my budget. I finally told Paula to quit her paralegal work and I'd go get another job. But before I could find one, God pulled us over the 50% mark, and we could make ends meet without either of us having to get another job! That was cause for celebration!

GRAVEYARD DANCE (©1986)

Christmas 1986, my family gave me a nice used Takamine guitar--the only guitar I've ever had since, and this was the first song I composed on it. The name is a statement of the crazy goodness of the Christian faith--death is not a terrible thing because it leads us into God's presence. It almost seems inappropriate, as inappropriate as the time that Laudon Williams and I were called down for pulling antics in a graveyard during a high school choir tour...

DAYDREAM WALTZ (©1989)

(Matt Shadid on String Bass) I never could get the hang of dancing, and I've never dreamed of dancing, but I DO daydream, and, despite my dislike for heavy 3/4 time, this IS a Waltz. It just came out while piddling on a synthesizer--It sounded aweful, so I've re-done it. Perhaps that's why it's taken so long for this piece to find a home...

ROCK OF RIGHTEOUSNESS* (©1996)

Our fourth child was born last Fall, and we named him Peter Justin, which, being translated is, "Rock Righteous." We didn't intend to name him that, but our oldest son said he wanted the baby's name to be Peter, and one of our guests named Justin said, "I don't see why you don't name him Justin," so, there it was, and we kinda liked it. I must give some credit to Christopher Parkening for some of the chord structure of this piece, which I heard on his album Simple Gifts.

MY JESUS/CAESURA* (©1987)

I made this arrangement based on the original tune composed by Adoniram Gordon.

WHEN A MAN'S TROUBLE IS HEAVY (©1992)

Despite the simplistic summaries people give of the book, Ecclesiastes has fascinating, thought-provoking wisdom in it. Chapter 8, verse 6 says, "For there is a proper time and procedure for every matter when a man's trouble is heavy upon him." (NASV) When I'm feeling troubled, it is often my procedure to play music. (I see now that this verse is interpreted rather differently in different English translations, but let's not get into that...)

LADY IN THE CASTLE* (©1992 Frederick Herrmann)

Fredrick borrowed my 4-track one night and brought it back to me the next day with these recordings he had made of his electric guitar. I really liked this one, so I mixed it down in stereo while trying to play a bass guitar line at the same time--It would have been better if I had had four hands. Fredrick named it, so you'll have to ask him what it means.

NEW WORLD SYMPHONY THEME

By Antonin Dvorzak. This was basically an experiment in playing a theme using different instrumentations, so during the recording, I was constantly fumbling from one instrument to the next. In addition, I did it on a two-track recording system, so it was almost impossible to control instrument volumes. I feel that it really gets out of hand in the middle, but oh well, I needed another song to fill this album.

LONG DISTANCE (©1987)

The more advanced a civilization gets, the further the distances that its people travel. When I was little, I didn't get much outside of the Cahaba Heights area of Birmingham, AL. I wrote this song in college when I realized that, for the rest of my life, it would probably be a long-distance phone call to call "home."

PEACE OF CHRIST* (©1994)

In the Bible, the Name of Jesus is frequently associated with peace. It is true that when we submit ourselves to His Lordship, we no longer have to worry about anything because we realize that He controls everything perfectly. Having a job without a predictable salary has provided plentiful occasions for anxiety, yet through it all, we have Peace from our Lord.

SHEEP MAY SAFELY GRAZE (BACH)

One of the music albums I grew up with was by a Christian touring group called "The Living Sound." On their first album is an arrangement of this Bach pastoral piece, so I've borrowed heavily from that arrangement.

HIS LOVINGKINDNESS IS EVERLASTING (©1989)

SANGRE DE CRISTO (©1997)

As I was putting this album together, I was going through my first year at Sangre de Cristo seminary. The peaceful outdoorsy environment and the cyclical nature of the classes are reflected in the piece as I spontaneously layered a few different instruments on the 4-track.
---
MEANING

THINKIN' OF YOU (©1996)

It has been a grand adventure ever since the color left punch glasses and the stained glass where we started several years ago. I could never hope to find a fairer lady or a better traveling companion on the journey that God had us go. I would never trade a day of happiness that's come my way, Walking with my lovely wife through every circumstance of life.

I'm thinking of you; I just want to say I love you, I'm thinking of you; I just want to say I care. I'm thinking of you; saving every moment for you, I'm thinking of you, and savor every one we share.

Beautifying old apartments, making them into a home where we tried to keep our friendships with the college student crowd. How we made it through financially, I'm sure I'll never know how the work that we began could yield what God endowed. Seems like these were simple days, but I'm sure in many ways, The challenges we faced back then were equal to our simple faith.

Little did we know that we were getting into when we took the plunge of giving God the chance to give us children by-and-by. Only by the grace of God we find a way to stay on top of work & church & children as the sun goes winding round the sky. Yet even in the chaos, there are moments when the world stands still, For us to enjoy a priceless moment and to drink our fill.

I suppose I'll have to add another verse as time goes by, But right now I'm at the office wishing that the time would fly,

DID IT IN 6 (©1996)

How many days would it take to form a day from a night, To fashion time and colour; conceptualize light? (One Day) How many days would it take to make the bed where oceans lie? Design Oxygen molecules and fling them in the sky? How long, how long? One day.

How many days would it take to make this universe In its beauty and diversity and make it all mix? A thousand years? A billion? "Impossible," you say? My God--did it in six!

How many days would it take to mold the world's topography, Pollinate it with plants & set the boundaries of the sea? (one day) How many days would it take to spangle space with all its spheres, Ignite the furnace of the sun to mark months & years? How long, how long? One day.

How many days would it take to fabricate a flock of finches, Create a million species of the whales and fishes? (one day) How many days would it take to engineer a lion's lung, Instinct and intelligence; invent the human tongue? How long; how long? One day.

DEAD DOG (©1988)

Drums: Benjamin George, Rhythm Electric Guitar: Nathan George, Lead Electric Guitar: Jay Pittard

Dead Dog lying in the street. Can't move its legs; can't move it's feet. I'm sinking in mud so thick I can't swim. My will is lost; my reason gone dim.

The divine judgment is fierce against me. I can't swim; no, I can't see! I need a vision; I need Your power To help me out in this dark hour!

Like the dog lying in the street, I'm so depraved, knowing only defeat. I believe in heaven above, and I believe in divine love. One man alone could pay the price, He holds the key to paradise.

The noose around my neck is growing tight, But I'm given power to win this fight. Though I may loose again today, I am assured of a future perfect way.

Be diligent to show your self approved, And from the truth you know, don't let yourself be moved. Don't be entranced by things of earthly fashion. Make yourself a man of passion.

"Well done, my good and faithful servant!"

PRAISES IN YOUR SIGHT (©1987)

I've seen the splashing streams fresh melted from the mountain snow, The lofty peaks at dawn, dark blue with golden glow. I love the smell of Autumn, the gossamer the spider weaves, The splendor of the forest paths, and walked through brilliant leaves.

In the bright blue sky, in the clear and twinkling nights, Your creation is singing praises in Your sight!

Beside the mighty ocean, I've felt the touch of sea-sweet wind, Washed in silver moonlight, and talked there with a Friend. I've heard the pounding thunder and tasted of the light Spring rain, And joined creation's chorus to sing the glad refrain!

GONNA MISS YOU SO * (©1986)

You are my very best friends; God has given you to me. The wonderful times we've shared, I'll treasure for eternity. The gift of time isn't enough, 'cause now it's time to go. You've been there when things got rough, and I'm gonna miss you so!

It's hard to leave you and face a new world out there. We'll pray hard for each other; and make it through with His loving care.

I thank God for such dear friends; you mean more than words can say! I'll miss you, but I'll see you in eternity beyond that last day.

LAMENTATION (©1988)

I offer will you pray with me? You don't want to; you do not try. I ask if you'll witness with me; You laugh and you just walk on by.

Oh, why won't you hear me? Your hearts are hardened; you cannot see. Oh, please hear my cry! Arise, my people or else we die!

Selfish pleasures are to you the only course of your pursuit; You wallow in your worthlessness and stink like bitter, rotten fruit.

Come with me, deny yourself, come meditate on Jesus' Word. Pray earnestly and show His love, and speak the Truth 'till all have heard it!

BE YE KIND* (©1995)

Words from Ephesians 4:32 Banjo played by Charlena Thomas, Children's Choir courtesy of Caleb Project

Be ye kind one to another, tenderhearted, forgiving one another, Just as God, for Christ's sake, has forgiven you.

REFUGE (©1990) PSALM 2:12

Did you ever try to find out where you came from? Did the wall appear to blind your eyes? Wrap your fingers around His thumb and Listen, 'cause He hears your cry.

Refuge! Quiet peace inside your soul. Refuge! Reach out your hand and be made whole.

Did you try to find a reason to keep on living? Did you feel the cold, nefarious stare? There's a life that the Spirit's giving; Grab for Mercy anywhere.

Did you eat the hedonistic stinger? Was the honeysuckle poison sweet? Burning shame--a pointing finger. Gotta fall at Jesus' feet!

I WANNA BE READY (SPIRITUAL)

This is a song that my church choirs sang when I was growing up, and I've tried to reconstruct it as best as I can from memory.

I wanna be ready, Lord, to put on my long, white robe.

I would not be a sinner, I'll tell you the reason why, 'cause if my Lord should call on me, I wouldn't be ready to die.

AGAIN & AGAIN (©1989)

Words by Steve Benson

I've been going down the same road, making mistakes, when I should have known. Many times, I stumble and fall, but You always catch me when I fall.

How can I keep on running when I'm blind? When the dirt of my sin covers my heart and eyes? Again and again I deny Your Name; Again and again, I cause You pain. Your heart is wrenched with agony When I disobey what You are telling me. Oh, but Your love is the only one, Again & again forgives me for what I've done.

I keep on doing what I say, deceiving myself, thinking it's Your way. I said to myself I'd learn from mistakes, but why take risks I don't have to take.

MEGALOMANIA (©1990)

This song was written shortly after reading Francis Schaeffer's A Christian Manifesto. I originally recorded it using a lot of frenetic banging on kitchen pots and pans--I even broke one of our special china plates, in the process--and it was totally un-listenable. I hope this version is more palatable. Benjamin George: Drums, Nathan George: Electric Rhythm Guitar, Jay Pittard: Lead Electric guitar

Can the concupiscent curds and fashion of tomorrow's nerds. Hollywood and Madison prestidigitation; Perception and Prophecy cry amiss the nation! Just so many words; just too many words.

What is it that I am saying? To whom is it that I am playing? Cat is on the screen-door, flummoxed, does he wonder How you're making money out of non-existent thunder? Excuse me, Miss-- you're sinful nature's showing.

Justice-law or martial might? Dawning humanistic blight. Firemen and not the fire that we all will battle. Liberals and Communists riding in the saddle. Liberty out of sight; cut the string from the kite.

Rear a narcissistic kid--media/education grid-- Never discipline or scold--privileges withholding, Kill them when they're young or old; virtue is unfolding. What's the highest bid? Unravel your id.

Surely Lordship is outdated; Maker no creation slated. No, we know where truth comes from--circumambulation-- Juxtapose the Sacred with wild imagination. Sovereignty is hated. Man is overrated.

MAN OF GOD (©1988)

Drums: Benjamin George, Rhythm Electric Guitar: Nathan George, Lead Electric Guitar: Jay Pittard, Bass Guitar: Steve Hicks

Can You hear me, as I'm calling out your Name? I gotta keep changing 'cause I can't be staying the same. My mind keeps turning in the middle of the night. I ask the Lord, "Will it be all right?"

A man of God is what I'm wanting to be. I want you to see Jesus living in me.

Lord, I know it's just so hard to do right, When I just want to give up on the fight; The willing Spirit and the weak flesh is my plight. You tell me that You're my strength and my light.

As You build on the ruins of the life I've led, I'll pray and think of You at all times in my head. And I'll tell the world about all the things that You've said; I'm waiting for the day when Christ and His Church will be wed!

BIG TOP (©1989)

Big dreams, business schemes, making' money, spend it back. Fast cars, big jets, makin' up for time we lack. Party lots, pleasure yachts loaded with the V.C.R. Microwave popcorn, keep your golfing up to par--

Big Top. Spin it like a big top. Runnin' circles in your head; Run in circles till you're dead. What's it matter anyway? Everybody's gotta pay!

Have a drink; hire a shrink; big house, cordless phones, Smell good, stunning looks, yeah, we can "one-up" the Jones'. Work hard; bite the bullet; make the breaks and let it coast. Free sex, designer jeans, kick it through the goal post

Havin' fun; break the ice; take a trip to paradise. Big top, watch it spin; buy your ticket; pay the price. Amusement park, surf shark, wha'ch'ya got in 40 years? Will it really satisfy? Don't you cover up your ears!

PEACE TO YOU (©1996) John 14:27

Peace to You--My Peace I give to you--not as the world can give.

(Joy, Goodness...)
---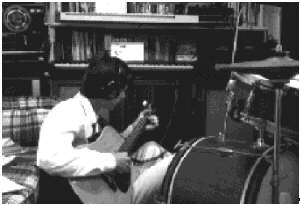 Sound & Meaning entire album ©1998. Unless otherwise noted, Nate Wilson composed, played, and recorded everything.
* Items marked with an asterix are available on the cassette tape version of this album, but not the CD version of this album. Click here to request a copy of this album on Cassette or CD!
---