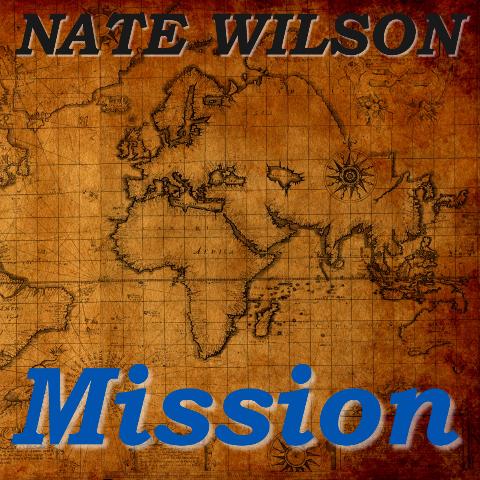 Track List for the digitally-remastered edition (2017)
1. The Time Has Come
2. Hasten The Day
3. Louez L'Eternel
4. All That You've Commanded
5. Praise To The Lord Of All
6. Shine It Out
7. Help Someone
8. You Can Do
9. Calling World Christians
10. Wait & See
11. Prophet's Song
12. Jesus You Have Sent Us
13. Change Your Mind
14. Take It Away
15. It's Their Turn
---
The messages of the Bible prophets are consistently centered on calling God's people to declare His glory among all nations. This message is still needed among God's people today. This album was originally released as a 90-minute cassette tape entitled Missions & Holiness in 1993. At that time I did not have access to professional recording equipment so all of these recordings are poor quality, but I still care about them and the messages they carried, so I am offering them in this digital form. I have provided brief samples at an even lower fidelity of sound for fast downloading in case you want to hear some of it before deciding whether or not to download the mp3 album. The album download is free, just click here for the mp3s as a zip file. Unless otherwise indicated, I composed, performed, and recorded everything you hear. There are over a dozen more music albums of my music at NateWilsonFamily.Net – please check them out too! ~Nate
---
Based on Isaiah 49:6 and Luke 9:23. It is also written in the style of Habakkuk 1 where the speaker switches back and forth between an immature person and God. I sang this as a duet with my wife Paula and got my friend David Bryant Bird to play the electric guitar part. I borrowed a drum machine from another friend named David Kennedy Bird and programmed it for this recording which was made on an old Tascam 4-track tape recorder in my apartment on Lookout Mountain, GA in 1991.
How are the roses blooming? I see the flowers growing fine.
May God bless this garden, This little garden of mine.
I've been working the soil; Planted the fruit with my own hand.
I built my house here In my own land.
It's too small a thing build a kingdom in this land
The time has come to take up your cross!
I'll make you a light to the ends of the earth;
The time has come to count all things as loss!
I work to build this kingdom. I labour and I pray.
I'll work to build a fortress on the foundations that I've laid.
I am at ease in Zion. By His blessings God has shown--
The wonder of His mighty love In the harvests that I've grown.
You were formed to be His servant; Your life is not your own.
Give up your precious treasures For the Kingdom He has sown.
A billion voices call to you across the unknown sea
Share the truth! Deny yourself! Come and follow Me!
Based on 2 Peter 3, Matthew 24, and Revelation 22. I recorded this on a 4-track recorder at Uncle David Shetter's trailer beside Lake Weiss in Georgia.
Though mockers all surround us-Veni,Veni
We know You keep Your promise-Come Lord, Come
As you ascended You'll return in glory.
Your patience is salvation -Hosanna
In every tongue and nation-Save, Lord
But, Lord, Still You say--
Hasten the day-Proclaim among the peoples
Hasten the day-When every ear has heard
Hasten the day-Be looking for His coming
Hasten the day-Adhering to His Word
What sort of people should we be-Veni, Veni
In godliness and purity-Come, Lord, Come
If all will be destroyed by fire that day
Look for new heavens and new earth-Hosanna
In peace & goodness have no dearth-Save Lord
Come, Lord Jesus, we pray--
Hasten the day-Come to meet Him running
Hasten the day-When the signs are all fulfilled
Hasten the day-When faith will become sight
Hasten the day-When He splits the sky like lightning And He returns at last.
Better put your house in order-Veni,Veni
No standing on the border -Come Lord Come
Invest in what won't burn up on that day
Be diligent to watch and pray -Hosanna
Getting your priorities straight-Save, Lord
3. Louez L'Eternel
Psalm 148 in French (Nouvelle Version Segond Revisee). I studied French in High School for only two years, so I'm not sure I got all the pronunciation right. I took a summer mission trip to France in 1986, and then the next summer, a friend at a Campus Outreach beach project gave me a French Bible she had, so I read from it through my college years, and that's where this song came from. It was recorded in 1988 straight to a stereo tape recorder in my dorm room at Covenant College, Lookout Mtn., TN.
Louez l'Eternel du haut des cieux! Louez-le dans les hauteurs
Louez-le vous tous ses anges! Louez-le, vous toutes ses armées! 
Louez-le, soleil st la lune! Louez-le, vous toutes, étoiles lumineuses! 
Louez-le, cieux des cieux, Et [vous] eaux qui êtes au-dessus des cieux!
Qu'ils louent le Nom de l'Eternel!
Car Il a donne un ordre, et ils ont été crées. Il les a établis pour toujours et perpétuité;
Il a donne une règle qu'il ne violera pas. Louez l'Eternel depuis la terre,
Monstres marins, et vous tous, abimes, Feu et grêle, neige et brouillard,
Vent de tempête, exécuteur de sa parole, Montagnes et toutes les collines,
Arbres fruitiers et tous les cèdres, Animaux et tout le bétail, reptiles et oiseaux ailes.
Rois de la terre et tous les peuples, Princes et tous les juges de la terre,
Jeunes hommes, jeune filles, vieillards et enfants
Qu'ils louent le Nom de l'Eternel! Car Son Nom seule est élevé;
Sa majesté domine la terre et les cieux. Il a relevé la force de Son peuple: 
(Sujet de) louange pour tous ses fideles, Pour les Israelites le people Lui est proche
Louez l'Eternel!  Louez l'Eternel! 
Based on Matthew 28:19 and Joshua 1:16. This song was commissioned by my Dad who noted the link between these two passages in the phrase "all that ___ commanded." In 1994, I recorded it on a 4-track tape deck in different locations around Littleton, CO, singing it as a duet with my wife Paula and playing a bunch of borrowed instruments: Drums from Greg Purnell, Synthesizer from Skyview Presbyterian Church, Bass from Andy Baker. I also got Greg Purnell to play his bongos for it.
We who know the Holy One Must tell the world that has no sight.
Like moths that sleep and shun the Sun, They flock at artificial light.
It is our heart's compassion To see them saved from hell.
Their plight compells our action; Our minds are stirred as well.
All that You've commanded, we will do. Wherever You send us, we will go!
Lord, You know that we belong to You To declare Your praise for all to know.
Where is the Truth that sets men free; Where is the Grace that leads to Life?
The Truth is set in you and me; The Grace is manifest in Christ!
Jesus gave His life for us, And we will give our lives for Him,
Give up all our toys of dust, Abandon every earthly glim.
May the Lord be with us as He was with Moses, Only be strong and courageous.
I recorded this duet with Paula, my wife, straight to stereo cassette in 1993.
Your love is a river running deeper than the sea And Your Spirit is a fire that purifies my soul.
Your justice and holiness are a wonder to me, And Your grace is all that makes a sinner whole.
We praise You, Holy One, forever still the same For Who You are and what You've done,
For Awesome is Your Name.
The people of earth confess as at Your feet they fall, "You are the God of righteousness,
You are the Lord of all!"
The canticle of creation has a single theme, To glorify the King of Kings in diversity of hue.
It's fitting for praise to come from those whom You redeem.
The peoples of the world will give their praise to You.
Alleluiah!  Bwana Asifiwe!  Gloria Dios!  Louez l'Eternel! Praise to the Lord of All!
Give accolades of praise to the glory of God! We honor You above all things, for You are our salvation.
Your power and majesty and Your wisdom we applaud; Exalt the Name of Jesus and offer adoration.
6. Shine It Out
Recorded straight to stereo cassette tape at my apartment on Lookout Mtn., GA, in 1990.
Picked up another hitchhiker this morning: Said it was "wife trouble" but just a warning.
Beer on his breath, spent the night with friend All of his hope blown away with the wind.
I prayed with the man before we got far; He thanked me as he stepped from the car.
The world we live in is in need of the light. When we witness of Christ, we are doing what's right.
God's word is true to illumine the night, So shine it out brightly with all of your might.
God did not give us a spirit of fear; Power and love and grace should be here!
I'm not ashamed of the Gospel of Christ; For it is salvation to all who believe.
You are appointed as ambassadors, So gladly obey your Lord and Master!
Everyone is in need of salvation; So don't you hold back in any situation!
Where someone needs to have Jesus as Lord, Show them the truth from God's holy Word.
It may be a stranger; it may be a friend; Seize every moment for time will soon end!
Be strong and courageous, for our God is with us! We must be persistent to share what is in us
The faces you see appear happy and well; Truth is, they're dying and going to hell.
I pray that God burdens our hearts constantly To take every chance to set men free.
7. Help Someone
Recorded at my apartment in Lookout Mtn, TN, in 1990, on a 4-track (maybe a 2-track) tape deck. The drum machine was borrowed from Reid Davis, and the Electric guitar was borrowed from Rob Thacker.
You see a man who's lost his way? Go over and help the brother; show him the way!
You see a little girl crying, and you say, "Hey, May I help you sister--help you today?"
Everybody, Everyone, Open your eyes; Help someone!
See the mother? See the businessman? They need somebody--someone who can
Help the sister, help the man. Show a little love as only you can!
There's a happy girl with all the fashion money buys; In the city, there's so much disguise.
I see a fellow with the sadness in his eyes; People need Jesus to come into their lives!
Speak the message that Jesus can save; Share the joy that Jesus gave!
Recorded in 1994 at the Caleb Project office in Littleton, CO on a 4-track tape deck. Drums were borrowed from Greg Purnell, the Bass borrowed from Andy Baker, the synthesizer from Phil Mershon, and I can't remember how I got my hands on an electric guitar.
Her desk is across from you, Or she may be in a house downtown.
She's desperate for something True; She's lost, and she must be found!
Take the time. Can't you see? This is worth her eternity!
You can do something about it; You can do something!
He lives in another land; A million gods rule his day.
He must be born again- In Jesus, the Only Way.
Find a way; Share the Word. He can't know--He has never heard!
They think they've got it figured out, this mystery of life and death,
But the terror they'll find on the other side far exceeds their wildest nightmare.
Give us a passion for their souls, Lord!
A turban crowns his frame; He cites the Quaranic creed.
But there is another Name- By which he must be freed!
Across the ocean, Across the street, Heavenly Father, direct my feet!
9. Calling World Christians
Almost half the world's population (that is approx. 2 billion) will die without ever having heard the Gospel, thus this call for cold, numb, self-absorbed Christians to become "World Christians." Some sociologists estimate that there are 22,000 ethnic groups in the world today, and God's word tells us that He will save some from every one of them. That is the mission I'm seeking to be on with Him. This recording was made direct to stereo cassette in 1993.
One time alone I was sitting in danger zone. I needed help and someone to pull me home.
Mind at ease, as you please, Deep freeze get on you knees!
Dance stop, belly flop, Take it over from the top!
Never never-opened eyes; I love the games and my disguise
Feel the heat from the fire, guys, Listen, two billion people are gonna die!
Forgive my mouth; for it is dumb. I'm waiting for Thy kingdom come.
How can hearts be so numb? 22,000 saving some.
Is there someone – someone who can take the message further on,
Committed 'till the task is done, And every nation has been won!
Based on Mark 4:30-32 (and the Apostle Paul). Recorded at my apartment on Lookout Mountain, TN, on a 2-track cassette recorder (maybe a 4-track) using drums borrowed from Ray Dameron.
It started all out with a tiny mustard seed, See how it grew to a big mustard tree!
In the middle of faith, looks like it's falling apart; Hang in a little longer and see a work of art!
The Master's hand is at work in this land; Wait and see, Wait and see.
Take a stand in the shifting sand. Wait and see, Wait and see.
I know a man in chains who wouldn't give up on the fight.
He struggled and he taught and filled the world with light!
I know where his strength comes, and I know that I can be Filled with God's power working through me.
Do you wrestle with the Lord when you're down on your knees?
Is Christ the center of your life--The only master that you please?
Are you serious about call to take it to the world? A wise & watchful servant sees the kingdom unfurl.
The phrase "Would you draw near me" comes from I Kings 18:30, where Elijah asks the people of Israel on Mount Carmel to "draw near to me." He wants to show them Who the true God is, Who will bring fire down from heaven, but he must have wondered how the people would respond. This reflects some of my feelings over the last decade, as I've been called to challenge Christians in the U.S. to more fully obey God, especially in the area of World Missions. I made the recording by singing and playing my acoustic guitar (and a borrowed electric guitar). I also borrowed David Kennedy Bird's drum machine to program the drum part. Multi-tracking was done by ping-ponging between a broken 4-track and another tape player at home in-between mission conferences and changing diapers on Lookout Mtn, GA in 1991.
To break through to you is my aim. If I were to call you by name,
would you bend your ear? Tell me, would you hear?
Would you believe my message, or would it surely drive a wedge?
This truth is what I hold dear; love must constrain my fear.
CHORUS If I were to call your name, would you draw near me?
            Would you love me just the same if you could hear me?
I've tried my best to reach you, to love you and to teach you
Only just to find others hold your mind.
This age is like the ancient times - The prophets still speak false their rhymes.
It ain't easy to believe that which man did not conceive.
To bear the truth is an awesome task. Thankless goes he who removes the mask.
But, I tell you, this is all I ask.
I speak out of necessity, the message comes impulsively.
The bearer of the Truth must speak the message here for you to seek.
Too often is he turned away by men who keep the truth at bay.
His counsels will not long adjourn, for love compels him to return.
12.
Jesus You Have Sent Us Forward
This was an exercise in irony. I decided to write a missions hymn to the tune of the least-missions-oriented hymn tune I could think of: "Jesus, I am Resting, Resting" by James Mountain. Recorded on a Tascam 4-track tape deck in 1993 at my apartment in Englewood, CO.
Jesus, You have sent me forward As a witness to Your Name
To proclaim to every people That for which You came.
See the billions lost in darkness; We must follow His command:
Bring into the heavenly places Men from every land.
Ever lift Thy face unto me as I work and wait for Thee
Resting 'neath Thy smile Lord Jesus, earth's dark shadows flee.
Brightness of my Father's glory, sunshine of my Father's face,
Keep me ever trusting, resting; Fill me with Thy grace.
13.
Change Your Mind
Recorded in 1990 in my apartment on Lookout Mtn., TN, using kitchenware as percussion, a synthesizer borrowed from Ed Sunder, an electric guitar with a phaser pedal borrowed from Rob Thacker, and two cassette tape players to ping-pong in order to add layers of instruments.
Kevin, I couldn't sleep last night; I been thinking a lot about you.
Years ago, I saw you walk in the light, But now you left the truth that you knew.
Lord, can it be that the blind receive sight? Can my brother's heart be really made new?
I'm concerned about you; why you always run a-way. I'm prayin' that you'll change your mind
Don't you know I love you, "Won't you please hear what I say; lookin' for what you'll never find"
…till you change your mind!
Eddie, what's it gonna take for His love to break on through?
I know how you're living, and it makes my heart ache;
How far will you go before you see that it's true?
Lord, You can make my sinful slate white,
Can You reconcile my brother's heart too?
You said you really don't care--as long as it's sincere, it's O.K.
Listen, when you die you don't have a prayer long as you try to delay.
It's heaven or hell; your life's at stake! You don't trust Christ and I'm scared for your sake!
Recorded in 1990 on a 4-track tape recorder, in my apartment on Lookout Mtn., TN, playing Ed Sunder's synthesizer and Ray Dameron's drums, and Rob Thacker's electric guitar.
In N. Africa 1,000 men bow on the ground & pray to Allah 5 times a day
They'll give their lives to serve a god they can't know. Will someone show them the truth?
Father of lies has them bound unless you go claim Islam for Jesus!
CHORUS:      Take it away to the ones who've never heard it! Take the light; keep it burning.
            Take it away; take the truth, and don't you forget,
            How will they know unless you tell them?  Tell Them!
In E. India, a woman stands quietly,looks at the picture on her shrine
She prays to a god who never hears her,but she believes that it's real
Who will go there and bring the Gospel near her--A Hindu in need of Jesus Christ.
Thousands of tribes in jungles around the world bound by demonic fear
They go through all of their rituals hoping for peace with spirits
Forever they'll live in spiritual darkness; Proclaim freedom through Jesus Christ!
And in Oriental lands there's a hunger for the One Who is Truth.
Though they strive to live the perfect life, we know they labor in vain
Tell them that Jesus is the only way; righteousness comes in His Name.
15.
It's Their Turn
This instrumental images some cultures in Asia, the Middle East, and the Islands, which have not been penetrated with the Gospel yet. The title comes from an advertisement of the Frontier mission to Muslims. It's their turn to hear about Jesus now. Recorded in 1989 direct to cassette tape probably in a dorm room at Covenant College.