---
Lord's Prayer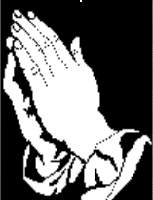 Click Here to request a copy of the Lord's Prayer Album as a CD.
---
Every morning I structure my prayer times according to the pattern that Jesus gave His disciples in Matt. 6:9-13. Prayer is such a crucial part of the Christian life and of God's power to change the world. So few Christians in America are truly fervent in prayer; may this album be a challenge to us all! Unless otherwise indicated, I composed, played, sang, and recorded all you hear. This is NOT a professional recording, but if you like what you hear, ask me for one of my other tapes.
Click on the highlighted titles to hear samples of the music. Each sample is about 35KB and plays for about 15 seconds. Note that sound quality has been diminished to compress these wav files for easy downloading.
"Our Father"
Obviously I didn't compose the words, but the tune came to me while elk hunting in the Rockies.
Paula Wilson: Soprano, Greg Purnell: bongos.
Our Father in Heaven, Hallowed be Thy Name
Thy Kingdom Come, Thy will be done
on the earth as it is in heaven
"Who art in heaven"
LORD OF THE STARFIELDS
--By Bruce Cockburn. As played by "the Substructure" David Kennedy Bird-Vocal, Pam-BGV, Fredrich-Electric Guitar, David-Bass
Lord of the starfields, Ancient of Days
Universe Maker, Here's a song in Your praise.
Wings of the storm clouds, Beginning and End,
You make my heart leap Like a banner in the wind!
Oh love that fires the sun, Keep me burning
Lord of the Starfields, Sower of Light,
Heaven and earth are Full of Your light
Force of the Nova, Smile of the Dew,
All of our yearning Only comes home to You
"hallowed be Thy Name"
You are my God and I will serve You,
You are my God, and I will glorify Your Name.
You are my God, and I'll serve no other--
Father in Heaven, You are my King!
"Thy Kingdom Come"
--Electric Guitar by Tim Hughes
We live in a world that says this life will never end (II Peter 3:4)
What the eye sees is better than what the soul desires (Ecclesiates 6:9)
This is just futile, like trying to catch the wind (Ecclesiastes 1:14)
A fruit of the Spirit is self control, I ain't lookin' to light my fires, no! (Galatians 5:23)
I'll live by God's precepts; I'll work while it is day (John 9:4)
I will not seek for houses & land (Ec cl. 2:4)
Work my job, preach the Word, raise my children in God's ways
My eyes will look to my Saviour's hand!
Jesus said, (Matthew 16:24) "If any man come after Me, deny yourself, take up your cross, and follow..."
Let Your Kingdom Come, Let Your Kingdom Come (Luke 11:2)
The fool folds his hands and lets things be (Ecclesiastes 4:5)
A little more sleep; a little more slumber (Proverbs 6:10)
I will not prop my feet up; sit and watch T.V.
I will not rest; my Father's work is an obligation I'm under! (Luke 2:49)
I buffet my body and make it my slave (I Corinthians 9:27)
I will renounce all things that profit nothing (Matthew 16:26)
Rise early, fervent in prayer, diligent in the word He gave
I don't need entertainment, there's WORK to be done!
"Thy will be done"
I say, the decision's impossible; Don't know which course is plausible!
Your Word teaches me to wait; Trustworthiness is Your trait.
You say, You'll give me wisdom (James 1), Freely, without derision.
But it's just so hard to hear Your voice, In the roaring of the world's noise!
I need a dream; I need a vision!
Give me some hope; Give me a mission!
Guide me, Jesus, guide me!
I say that I'm too weary. Can't go on, life is so dreary.
You have put me to the test, But You give me peace and rest.
You say, "Acknowledge me every day; I will, always direct your way." (Prov.3)
God, I want to follow You, Honor You in all I do!
"On earth as it is in heaven"
--Composed spontaneously while watching a sunset from Lookout Mountain Georgia.
As the clear evening skies are coloured by the setting sun, & brightest stars shine in the deep blue, I sing to You, my Father, my God.
Your majesty fills me w reverent silence & I praise You for calling me Your own.
I want to shine Your beauty like the evening light, For all to see my loving God!
"give us this day our daily bread"
I LOOK TO THEE IN EVERY NEED
--Poetry by Longfellow & Anonymous; Tune by Phil Keaggy C.'86, Marguerite Music (ASCAP).
I look to Thee in every need, And never look in vain
I feel Thy strong and tender love, And all is well again
The thought of Thee is mightier far Than sin and pain and sorrow are,
Than sin & pain and sorrow are, My Lord.
Discouraged in the work of life, Disheartened by it's load,
Shamed by its failures or it's fears, I sink beside the road
But only let me think of Thee, and then new heart springs up in me,
and then new heart springs up in me, My Lord.
There is an eye that never sleeps Beneath the wing of night
There is an ear that never shuts When sink the beams of light.
There is an arm that never tires When human strength gives way
There is a love that never fades When earthly loves decay.
There is a power man can wield When mortal aid is vain
That eye, arm, that love to reach -- That listening ear to gain
That power is prayer, Which soars on high Through Jesus to the throne
And moves the hand That moves the world, To bring salvation down.
JUST A CLOSER WALK WITH THEE--
Traditional Folktune. Clarinet: Charles Wallace
"and forgive us our debts"
--Bass: Andy Baker
What is on your hands?
--Wash--
Is it blood, semen, stolen goods, tortured by a demon?
Not the most destructive sin
can confound the grace within
the blood of Jesus's flow.
Cover me from head to toe,
and I shall be white!
What is on your tongue?
--Wash--
Is it rebellion, a lie, bitterness, Harsh words your temper's high?
What is in your eye?
--Wash--
The look of lust, covetousness, Pride, idolatrousness?
"as we forgive our debtors"
NOT JUST JUST
You are flawless in Your form,
Perfect in personality,
Righteous in everything You do.
Oh Lord, I praise You,
That You are not just just,
But You are gracious too!
If You rewarded each man
according to his actions
What a terror You would be
Al of us have done wrong
Not one of us does only good,
and the judgment we deserve
Is worse than we Can possibly imagine.
Far from Your goodness we belong
It's amazing that you'd go to hell for me
To take the judgment I deserve
I'm overwhelmed to know that You forgive!
You can wipe my record clean--
Sink it in the sea of forgetfulness.
You died and gave Your blood So I can live!
Blows my mind to step into the throne room of the ruler of the universe,
And know I am accepted and loved
Oh God, how glad I am
That You are not just just,
You're gracious too!
" lead us not into temptation, but deliver us from evil"
Lord, can't You hear me crying?
I'm the one You say You love so well
I need Your peace--You know I'm trying
To live for You in a world that's gone to hell
I need to see Your face.
To feel Your touch upon my life
I need Your strength to run the race,
For without You I know all is strife
I know the dawn is on its way;
I'll cling to You & will obey,
Believe You have planned all things
And eagerly await What the Spirit brings.
Why is it Your children suffer,
And wonder, Is He really in control?
Why is life for righteous tougher
When we strive To make Jesus Christ our goal.
Reach out and do something soon!
My light will die out In these fierce winds!
Guide Your people to the noon--
The light of peace Your Holy Spirit sends.
Lost, & don't know what to do;
Lord, please show me Your will
I'm a musician, Who is waiting for the cue;
Direct me, Lord, And bid my soul be still.
BOY's PRAYER
--Prayer composed by Josh, & prayed by Beni Wilson
"Thine is the kingdom, the power & the glory forever. Amen."
I love Gregorian chants, so I set about to put the last phrase of the Lord's prayer into such a setting, but didn't have a Latin translation handy. I DID have a Greek New Testament handy, so why not do it in Greek?
ὅτι σοῦ ἐστιν ἡ βασιλεία
καί ἡ δύναμις
καί ἡ δόξα
εἰς τοὺς αἰῶνας· ἀμήν.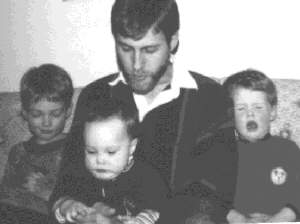 Evening prayer w/ my boys. Photo: Paula
---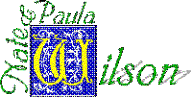 Request a copy of this album on CD or MP3.