---
Nate's Nature Photos
I'm not much of a photographer, but I have tried to get a few images of the natural beauty around me with my little point-and-shoot camera. I hope you can enjoy it, too!
---
I took the following graphics to be used as web page backgrounds. You are welcome to use them (right-click on the graphic to save it). Please write me a note and let me know if you use them!

After a cold snap that froze at least the top 18 inches of the creek, I hiked down its frozen surface. This 2-dimentional image does not do justice to the wonderful pattern of air bubbles, snowflakes, and tree-berries suspended at different depths in the ice.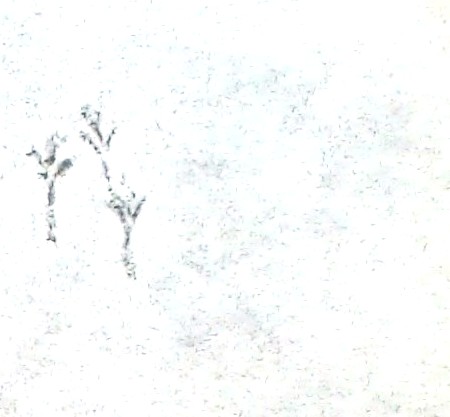 I took this photo of a set of tracks made by a Junko on our patio after a light snow. They seem to be the most active ground birds when it snows around here, pecking through the snow for food.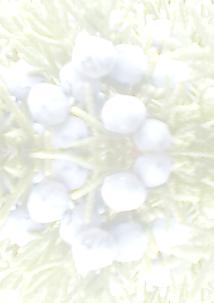 Blue berries fruiting on the evergreen juniper (a.k.a. cedar) boughs in the fall. They are edible in moderation, though contraindicated for pregnancy. The berries follow the linear growth of the fronds, so I had to mirror the top half of the photo to fill out the bottom of this image.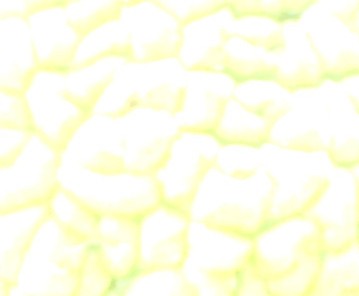 The hedge trees drop grapefruit-sized "Osage Oranges" (which are actually green in color and are not good to eat) in the fall. This is a closeup image of its skin which is krinillated like a jackfruit or a pineapple.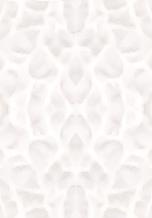 This is the cap of a Morrel mushroom I found growing in the woods. I kaleidoscoped it to interact with the broad, flat surface of a computer screen.

This is a closeup of a live snake our kids discovered slithering up a tree in our front yard.

I took this photo in a field of grass across the river.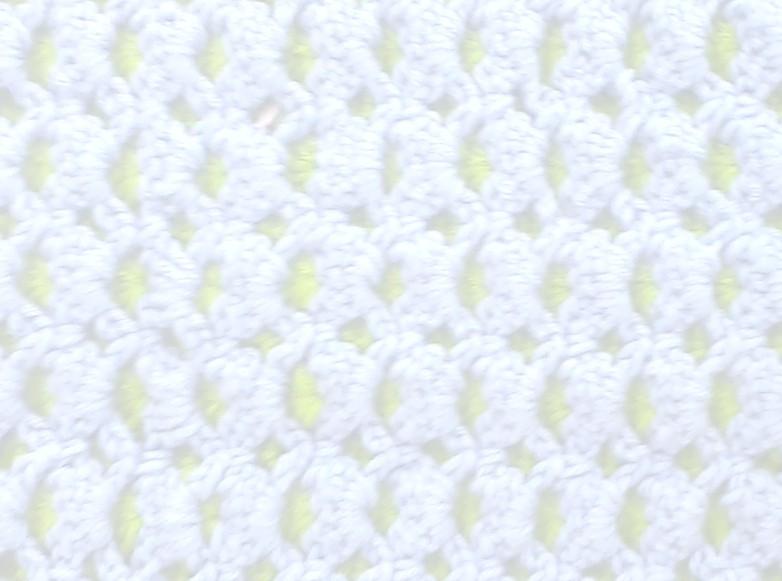 My daughter Hope crocheted this with two layers of yarn.

These daisies were in a field near where we like to go walking.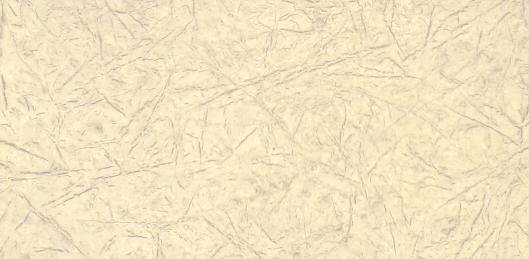 I took this photo of freeze-thaw lines in the clay while walking down a gravel road near Ogden, KS.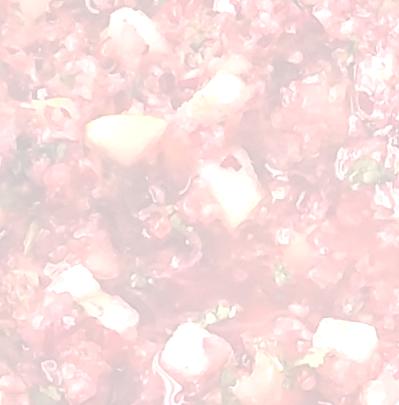 Jill Harris taught my family this recipe for cranberry salsa, and it has become a Christmastime favourite!
This is a kaleidoscoped photo of leaves in our front yard after a snow.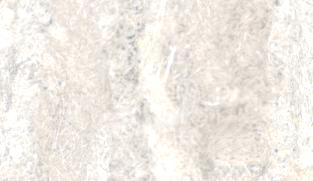 I picked up this swatch of paper from a hornet nest while camping near Mt. Rushmore.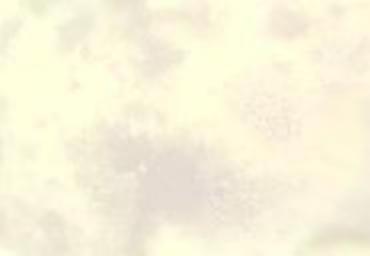 This is the skin of a golden delicious apple I picked from a neighbor's tree (with permission).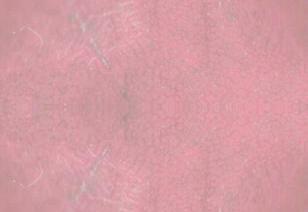 This leaf came off of a maple tree in my yard at the height of its autumnal color.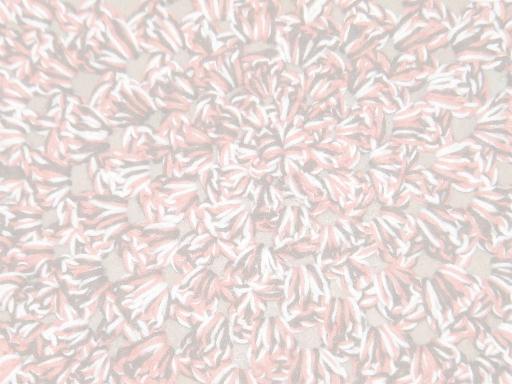 My daughter crocheted this little rug.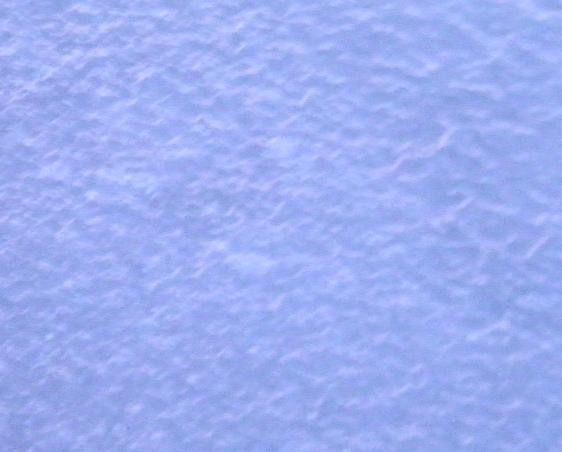 While hiking in Routt National Forest, we ran across a beaver dam. Upstream the water had this layer of ice, but downstream the stream was free of ice.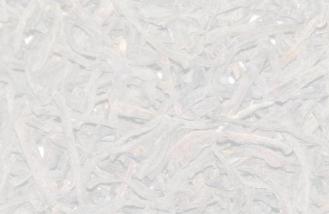 I photographed these tea leaves before making a cup of tea. I tried a photo after making my tea, but the wet leaves looked unapetizingly slimy and had too much contrast between the bright whites and dark blacks to work as a background.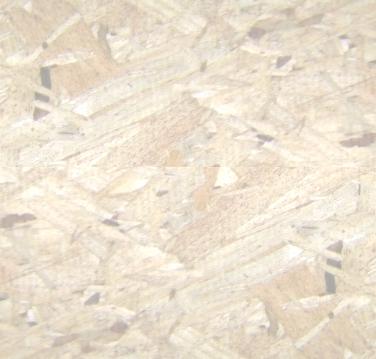 When we built our garage in 2011, I learned a new acronym, O.S.B. stands for Oriented Strand Board and is used for sheathing walls. I saw a lot of this pattern in the construction process and thought it would work pretty well as a web background!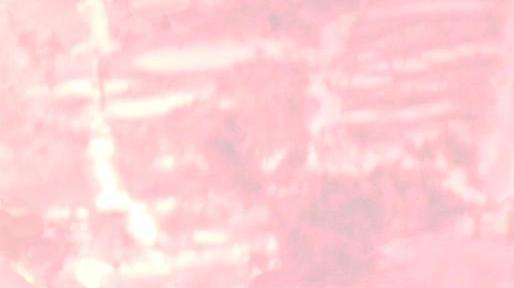 This is a photo of glowing embers inside the wood stove in my home. The high contrasts of cooler black spots on the embers and white-hot spots on the embers were a challenge to work with, but I was able to find a small area of the photo with enough red to make it work.

This watermelon was a volunteer that grew in our garden in 2010. The skin makes a nice pattern.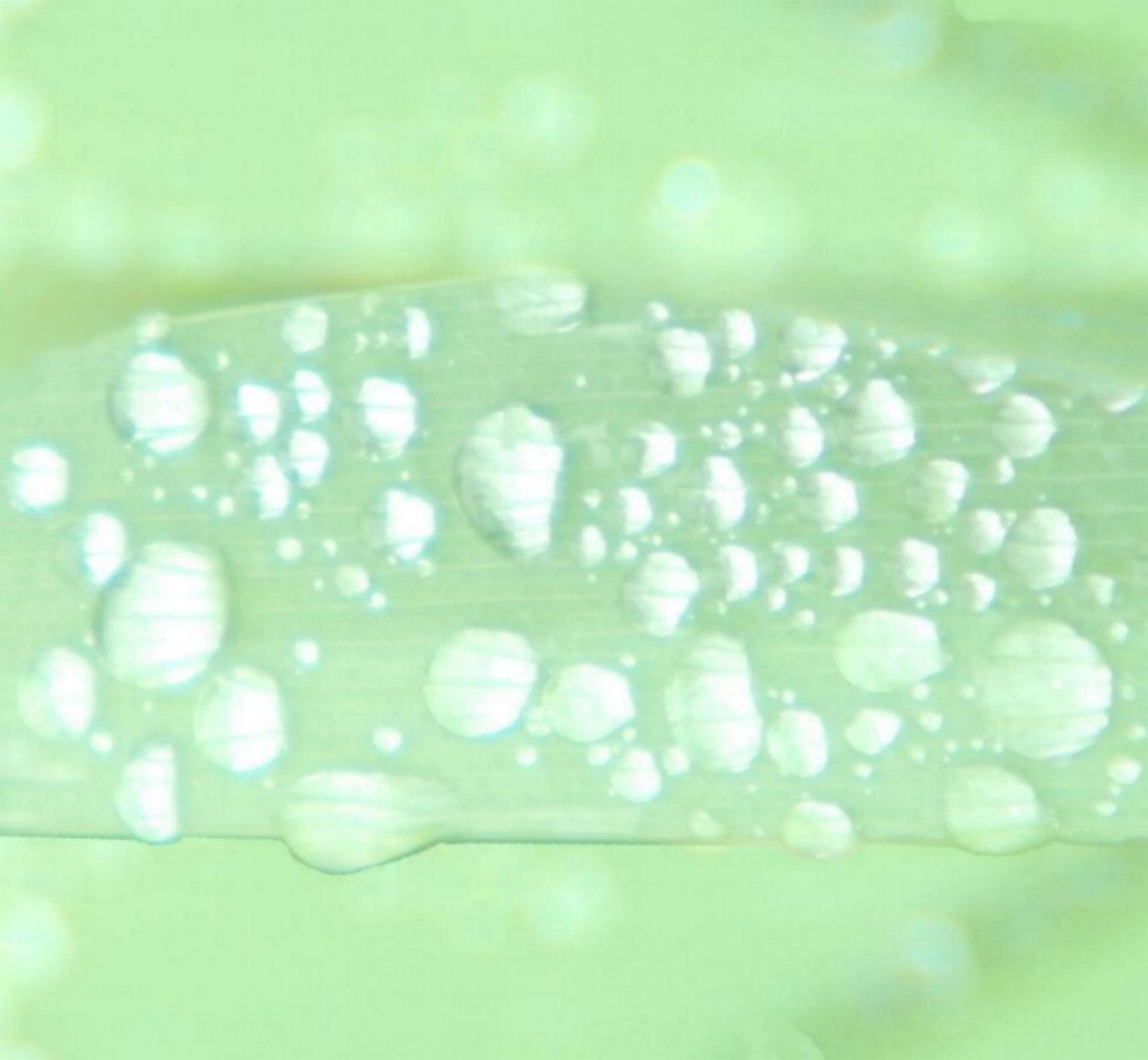 Water droplets on an Iris blade in my backyard.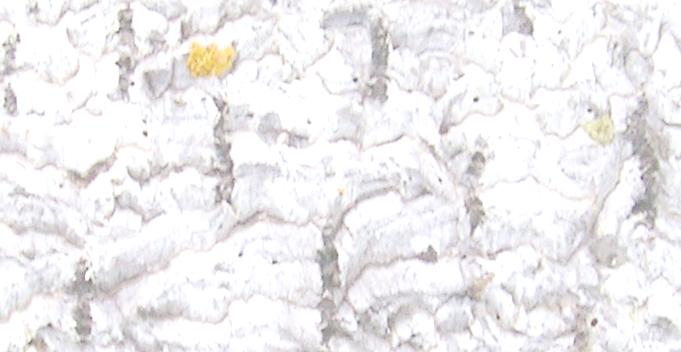 While hiking on the Rainbow trail in Colorado in 2008 I noticed this striking pattern on a downed aspen tree.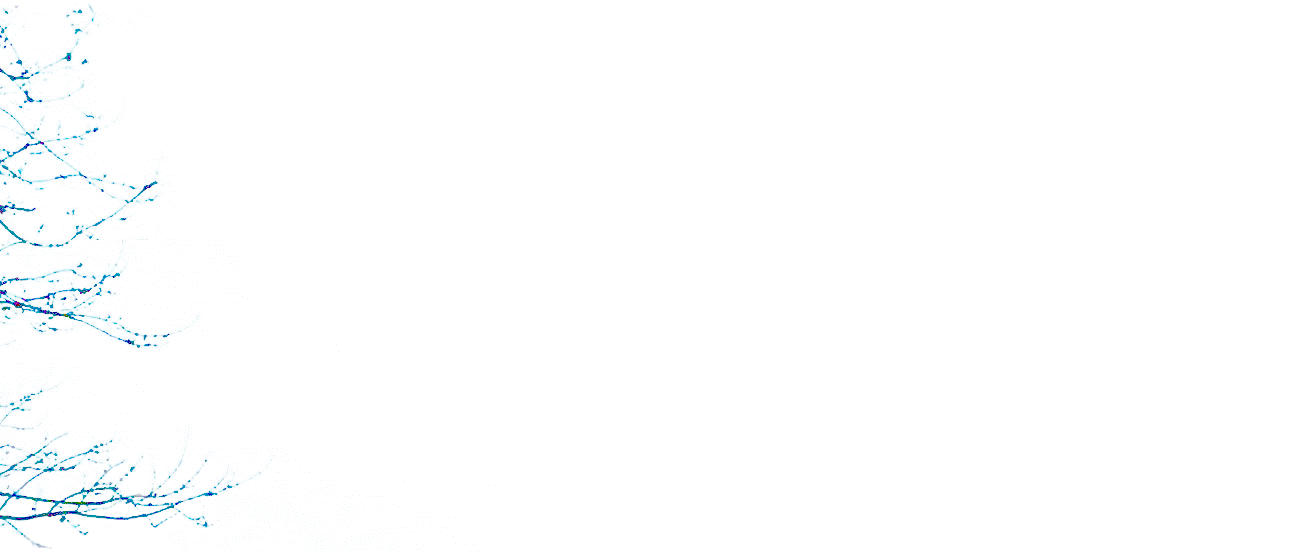 This is the view out my Manhattan office window in the winter - the branches are of the big Maple tree in the front yard.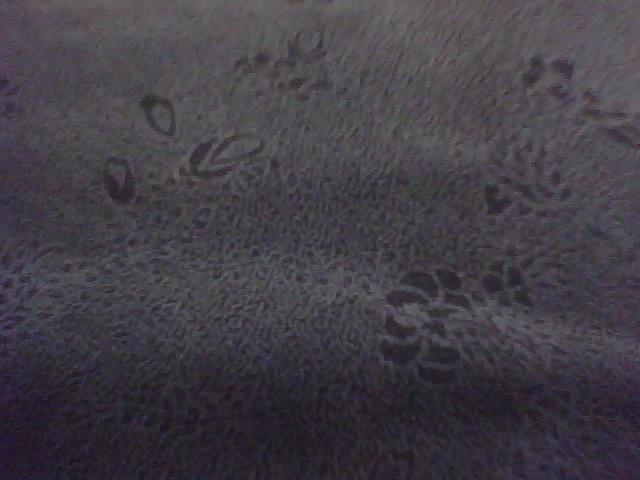 I found this photo in the camera - probably taken by my daughter Grace of a dress she was wearing.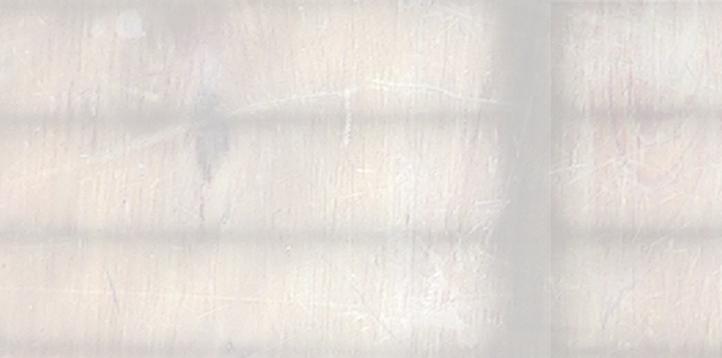 This is the pattern of morning sun through the blinds shining on a cedar chest in my bedroom.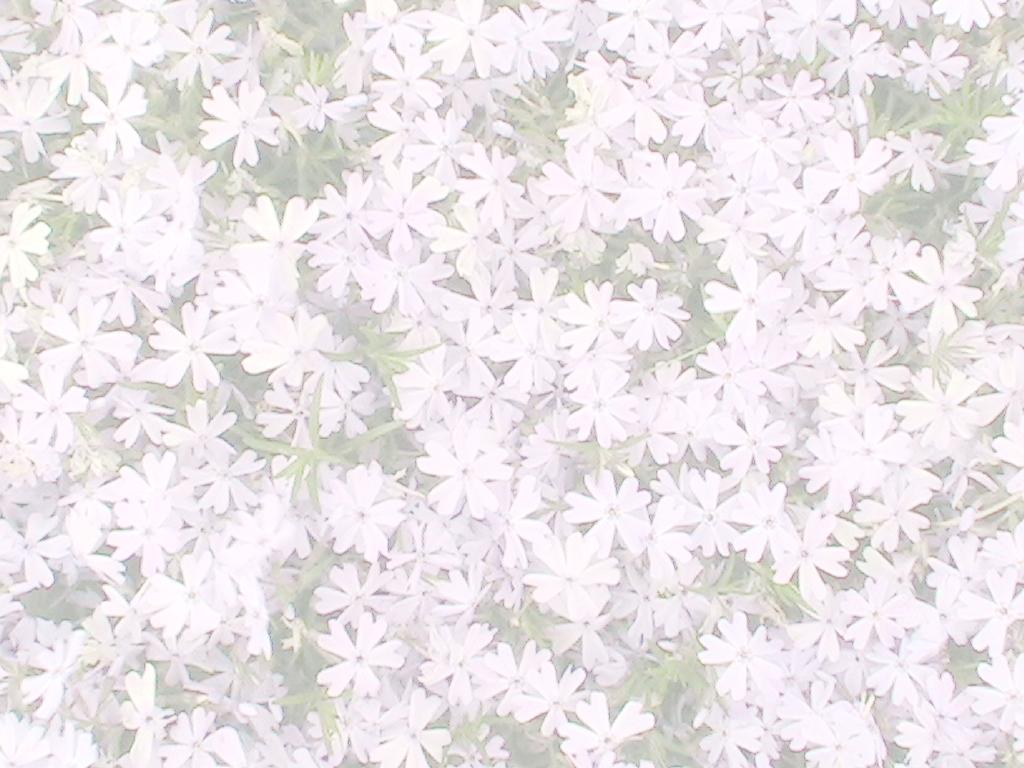 The groundcover in our backyard rose garden burst into these flowers in the spring of 2008.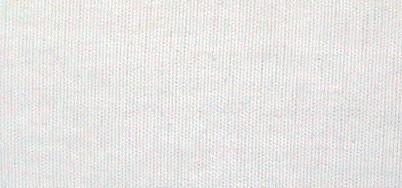 I snapped this photo of the curtains in my living room on one morning.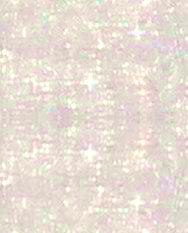 My son, Amos, took this photo of ice on the trees in our neighbor's yard following an ice storm.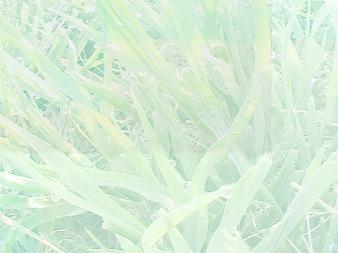 My son, Amos, took this photo of grass in our backyard before the morning dew evaporated.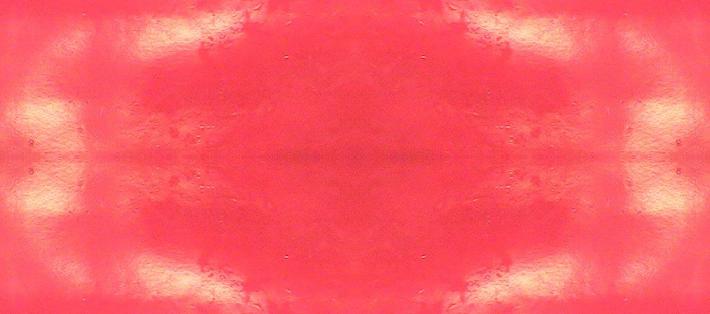 This is a close-up of one of the bell peppers we grew in our garden in the summer of 2007.

Moss growing on a rock in the Smoky Mountains.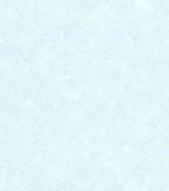 I walked outside one morning during a vacation in Clark, Colorado to see these huge flakes lying on the ground. They covered the trees and ground every morning and melted off every day by noon.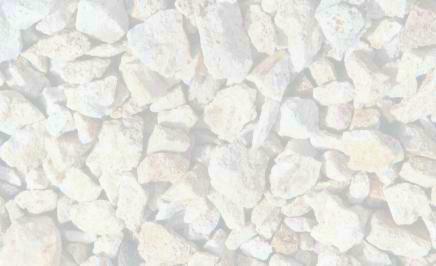 Scree atop Hahn's Peak, Colorado.
Flowers blooming in the groundcover in front of our home in Kansas.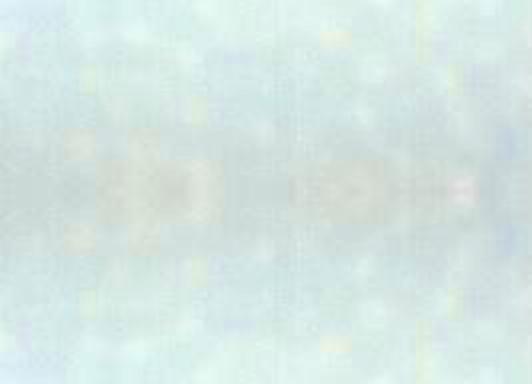 One morning, as the sun rose at our home in Southern Illinois, I noticed that the light was reflecting off a porcelain lamp base and making a neat pattern on the blue wall. I'm afraid this image doesn't quite do it justice, but it still makes a nice background.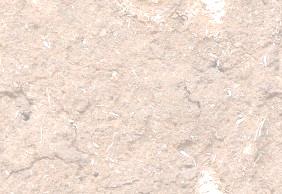 This is actually a commissioned photo. As our TentMaker Project mission team was walking past a row of huts in Nakitokolo, Uganda (East Africa), I asked Paula Bonner to snap a picture of one of the walls. I have edited it to work in a mosaic format.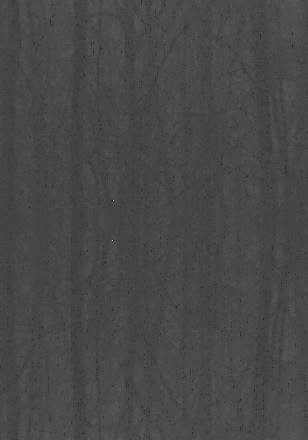 I took this as a color photo of the trees in our backyard in Southern Illinois at dusk. All I did was increase the brightness and contrast because it turned out darker than I had expected. I had hoped to catch the feel of the quiet pleasantness of dusk, but the photo looks kind of edgy and gloomy; Oh well.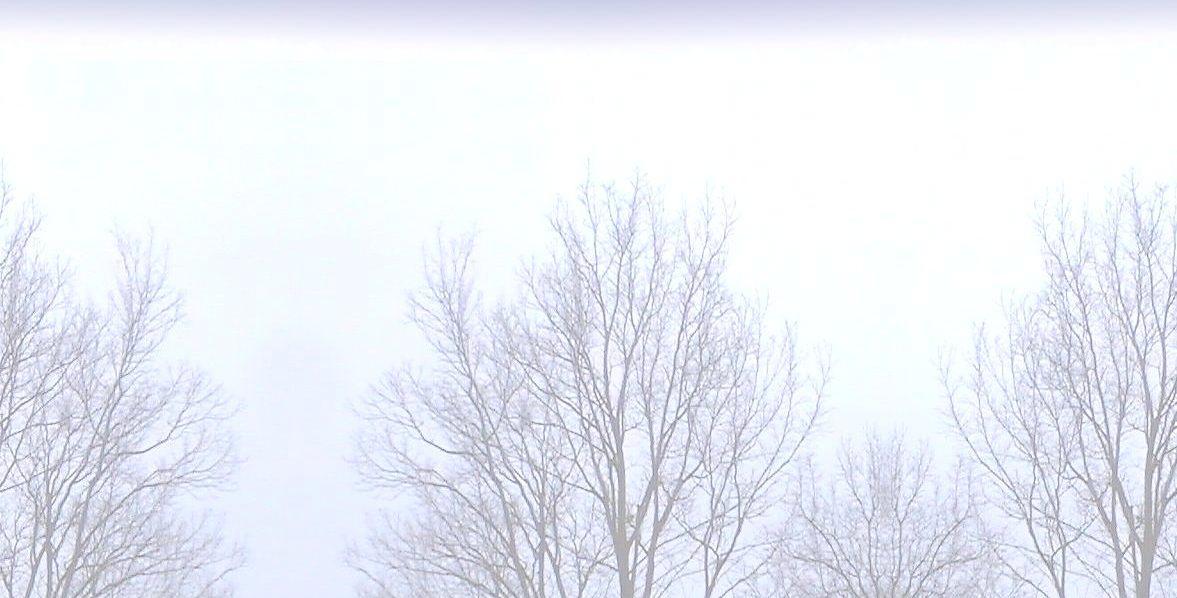 I love the patterns of the bare limbs of deciduous trees in winter against the sky. I composed the image from a photo of some trees in my backyard, adding mirrored images on the left and right and a gradient on the top. This background is relatively large in size, but I felt it needed the full size to capture the beauty of the trees.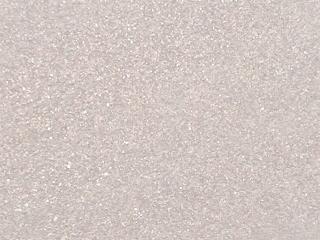 While visiting the Great Sand Dunes National Monument in Colorado, I took this picture.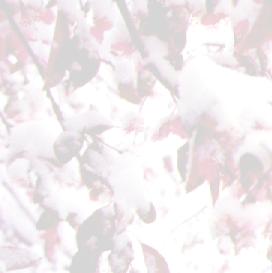 This is the last snow of spring coating the Crab Apple tree with its pink flowers in the yard of our house in Denver.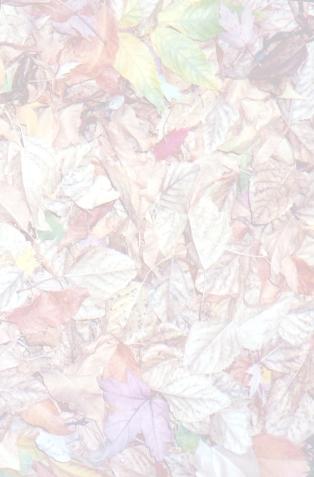 This collage of Autumn leaves was lying on the driveway of our home in Denver.

These Virginia Creeper vines are growing like gangbusters over the porch in the backyard of our home in Denver.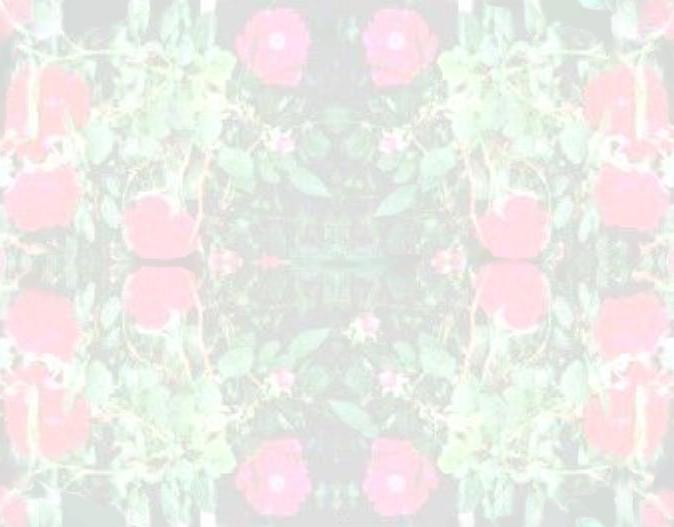 Roses from a bush in the backyard of our house in Denver.

The buildings at Sangre de Cristo Seminary are constructed from lumber milled right on the property. This is a section of wood siding from our cabin.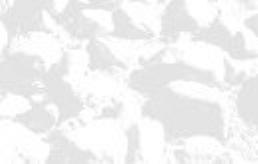 Rocks from a dry stream bed near Westcliffe, CO.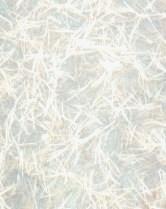 Pinestraw on the ground.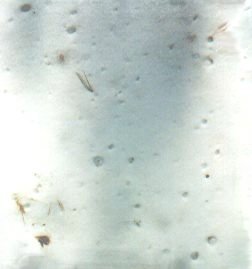 A light coating of snow.

Deeper snow.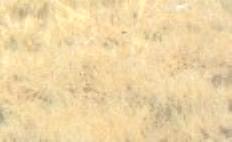 Wild grass, Wetmore Colorado.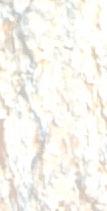 Pine bark, San Isabel National Forest.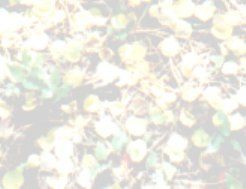 Aspen leaves on the ground, San Isabel National Forest. (Their real color is MUCH more brilliant!)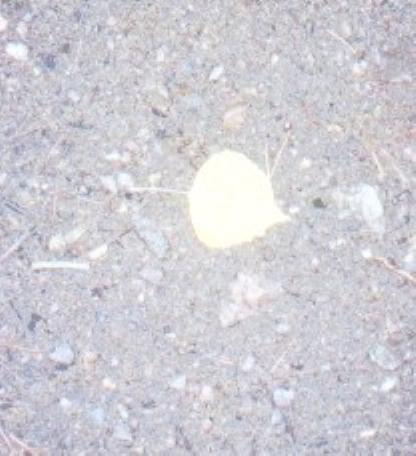 Aspen leaf on the ground in Deer Creek.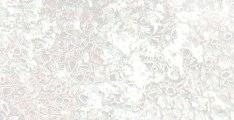 Lichen on a rock.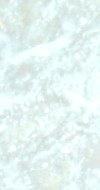 Rapids on Horn Creek.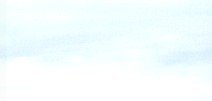 Overcast sky.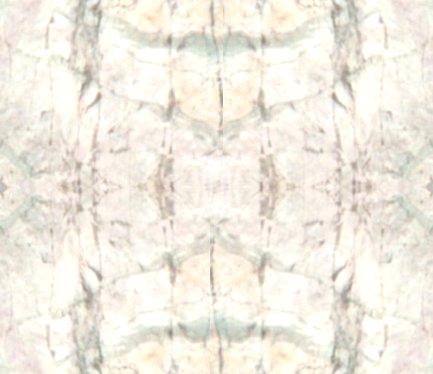 Part of the rock face in Hardscrabble Canyon. The original photo is actually one quarter of this image.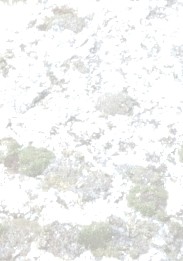 I took this photo of the tundra at 12,000 feet in Rocky Mtn. National Park.
---

These antelope were grazing in a field right next to the road between Florence and Wetmore.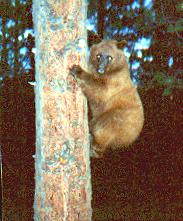 I was taking out the trash one day and found this bear raiding our trash trailer.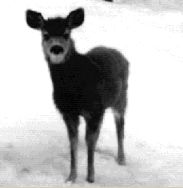 Deer came right up to our house in Westcliffe, looking for handouts.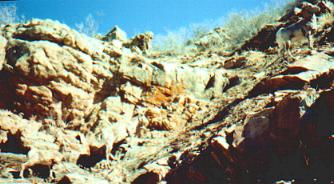 Can you see three mountain goats in this picture I took while driving through Hardscrabble canyon?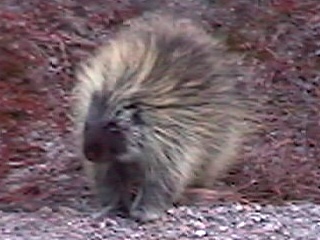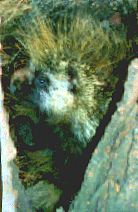 This porcupine (Left) was nested in the tree next to where I was studying one day. To the right is one we saw on the side of the road near Arapahoe Basin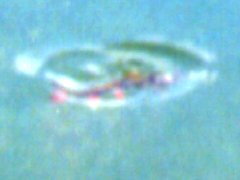 This was one of many unsuccessful attempts to photograph a trout in the nearby pond. My boys threw a dead fly into the water to lure him, but it wasn't until after he jumped that I snapped the shutter. The red streaks are his fins.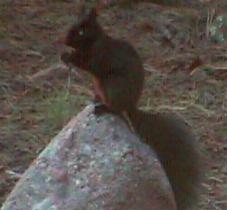 I don't know how many times I tried to photograph the big black squirrels in the Sangre de Cristo Mountains, they are such shy creatures. These squirrels are jet black, rather large, and have long tufts of hair protruding from their ears which make them look for all the world like bushy-tailed rabbits!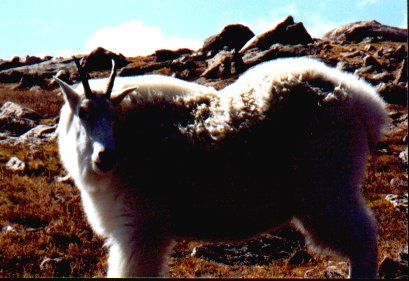 Paula took this photo of a majestic Alpine Mountain Goat out the car window as we were driving along the top of Mt. Evans.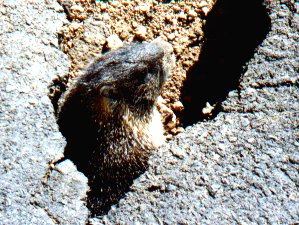 This marmot was in the middle of the road as we were driving along Mt. Evans. He ran into a hole in the road, and Paula took his picture as we were driving over him!
Chipmunks a.k.a. "Ground Squirrels" are plentiful in the mountains. Although they look a lot like squirrels, they are smaller and striped. When frightened, a Squirrel will run up a tree, but a Chipmunk will run for a hole in the ground.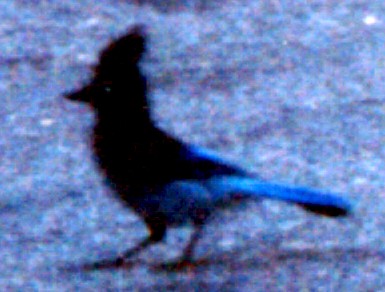 In the mountains, the jays are much bigger and blacker than the jay birds I grew up with in the Southeast USA, these Steller's Jays also have big crests on their heads.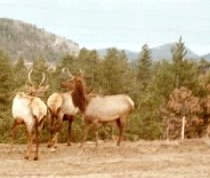 We ran across this herd of elk right off the side of Highway 285 an half-hour west of our home in Denver.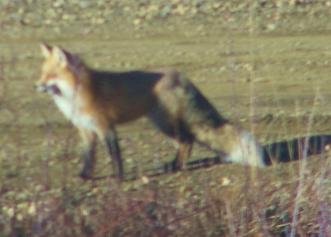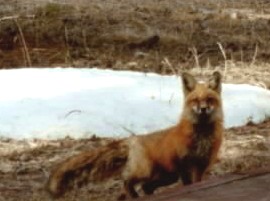 We went to a vacation cabin in Frisco, CO, and were awakened in the night by strange barking noises. The next morning we discovered that this vixen had two cubs living underneath the back porch! The fox on the right was walking down the road near our cabin in Clark, CO.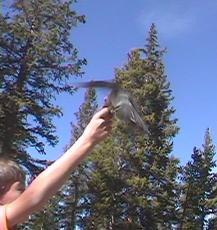 The Clark's Jay, named after the Clark who was Lewis' companion in exploring the Western United States in the early 1800's, is a scavenger bird. It is more friendly to humans than any of the other types of jays; I've had them follow me around when I was eating lunch and even had them eat out of my hand before!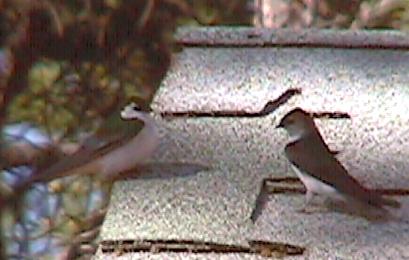 This male and female pair was making a racket chirping on our roof one day. This type of swallow lives in the woods and has shorter wings than other varieties, perhaps to enable it to swoop in tighter flight patterns among all the trees.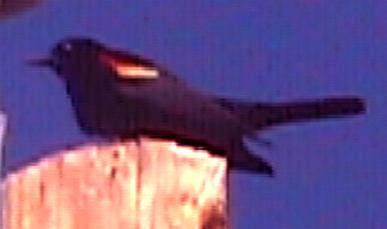 This is the only blackbird I like. It sits on fenceposts in open fields and bursts into a really loud, but lovely warbling when you pass by.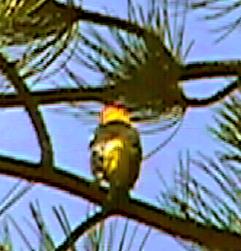 I hope to get a better picture some day, but even from this back shot, the bright yellow and red coloring of the taninger is obvious. With all the muted colors of birds in the pine forest, this garishly-colored bird seems quite out of place, but it is a regular here.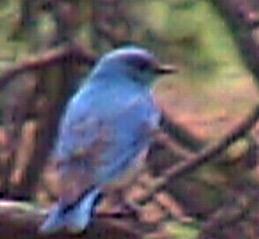 I think this might be a purple martin. I've seen a couple in the pine forest. I've heard that it is a voracious insect eater.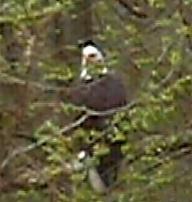 The bald eagle in this photo was scanning a pond next to Highway 127 near Pomona, Illinois. I could hardly believe my eyes when I saw it as I was driving down Highway 127 - it is a huge bird!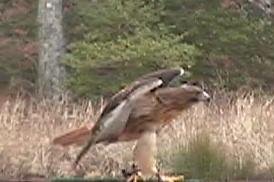 I've seen hawks perching on fence posts and trees throughout the high plains - but always when I am driving and unable to stop and take a photo! I took this photo at the Callaway Gardens raptor show.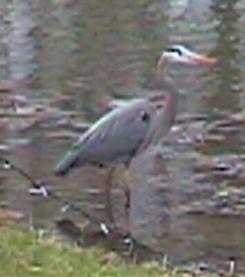 As Spring hit our rural home in Southern Illinois, this herren became a regular visitor to our little lake. My son, Beniah, took this picture.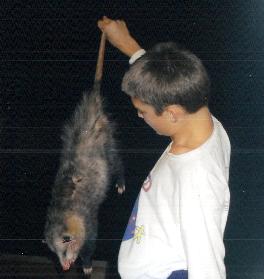 This 'possum came onto our deck to eat the cat's food. Don't try this at home, by the way; this trick should only be done under the supervision of a teenager who knows all there is to know about everything.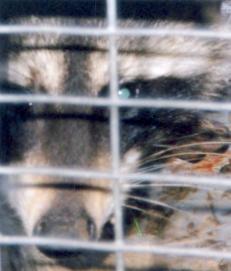 We've also had lots of racoons visit our cat's food dish, so we set a live trap and caught this coon. Josh took this photo.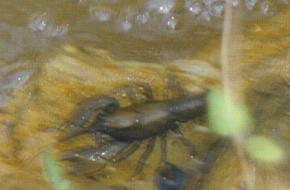 Crawdad in a stream. Photo by Peter Wilson.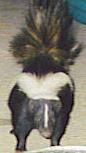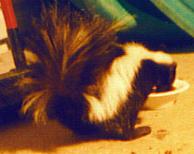 The Random Woods skunk patrol stopped at our back porch every night to finish off our cat's food - until we discovered what was happening and started putting the cat food away in the evening!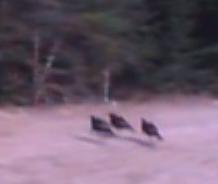 I've seen wild turkeys about once a month since I moved to Manhattan, KS. Every time, I was without my camera, of course. These three turkeys were in a clearing on the way to our church meeting place. I took this picture with my cell phone; how I wish it had a zoom lens!
---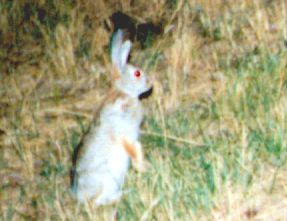 My 6-yr-old photographed this wild rabbit.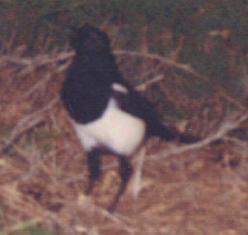 Related to the Jay is the Magpie with its bold black, white, and blue tuxedo. The only place I've seen many Magpies has been around the office building in Littleton, CO - they seem to like the open fields - but only on bright, sunny days. Still they don't let you get very close to them. After years of trying, I finally got this close-up from a car window as we were driving by.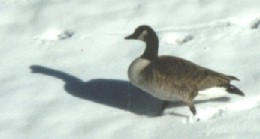 Not as common to the mountains, Canadian Geese love to stop on flat fields where they can graze on grass roots. I took this photo from the window of my office in Littleton, where thousands of geese stop by on their journeys inbetween Canada and the South lands.
Unlike Groundhogs/Marmots, Prairie Dogs do not hibernate, and they do bark. I pass by this prairie dog village every day on my way to work in Littleton, so I had my 9-year-old lean out the window and snap this shot as we drove by.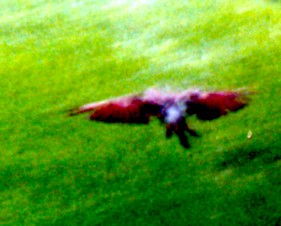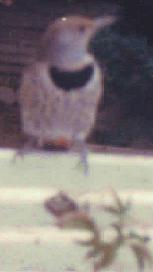 Flickers (a type of woodpecker) are hard to photograph - they blend into the surroundings with their mottled feathers, and if you get too close they take off in a long, swooping flight, exposing a white patch on their back - which is what you see here. I haven't seen them in the mountains or in the prairie, but rather where there are mature trees.
They love Virginia Creeper berries (which are so acidic they'd cause liver damage in a human), so I was finally able to get close enough to one while he was eating these berries outside our kitchen window - you can see some of those berries in the foreground. But we've gotten even closer on one remarkable occasion: One day, a snow storm rolled in suddenly, and several flickers tucked their heads under their wings and hibernated right there in the Virgina Creeper. I was utterly shocked when our boys went right out and petted one of these temporarily-hibernating flickers - they would have never gotten that close in normal circumstances.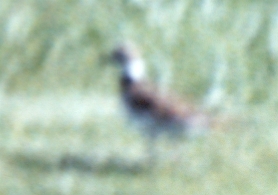 The killdeer looks and sounds like the sandpiper with its long legs and its simple piercing cry, but instead of living on the ocean shore, it lives in meadows.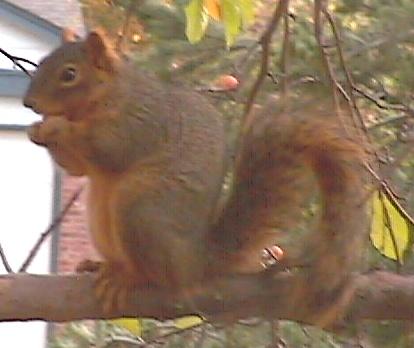 You can get a lot closer to squirrels in the city - this one was perched just outside my living room window. In fact, one of these squirrels played tug-o-war with my 5-year-old son when both the squirrel and Josh wanted the same stick off the ground! There is another kind of red squirrel in the mountains which is much smaller and hates humans - it will chatter at passers-by from the top of a tree - I doubt I could ever get a photo of one of them, although you can often see their huge piles of pinecone discards underneath their nests.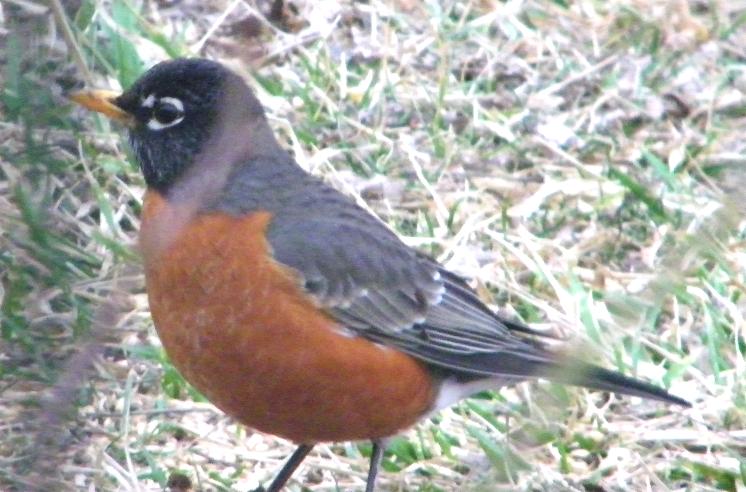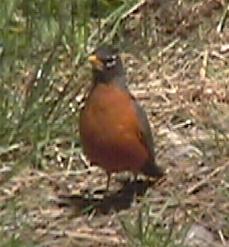 I debated whether or not to include the humble robin. It's ubiquitous presence in America makes it seem almost too common to mention, but I was pleased with this picture and thought I would include it. The Robin spends a lot of time on the ground, picking up worms and such. It doesn't mind living close to humans, but if you get too close, the robin has an unmistakable warning chirp as it flies away to a safe distance.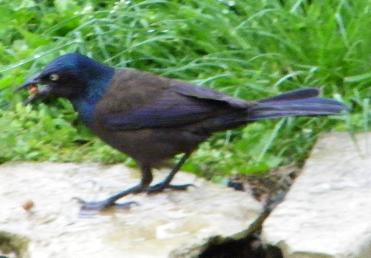 I despise Greckles. Their song sounds like rusty machinery, and they amass in great flocks, eating everything in sight and bullying other birds. This one is eating our cat's food. The only thing I admire about them is their irridescent black manes. (Photo by Amos.)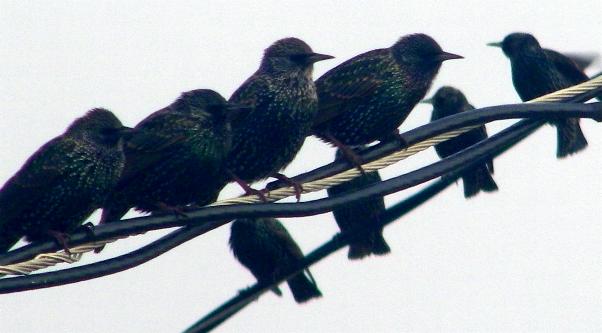 Starlings are another bird I don't like that shows up in vast numbers at once on our lawn. Of course, they fled at the approach of the photographer and perched on the powerline, clacking and screeching, waiting for him to go away. (Photo by Amos.)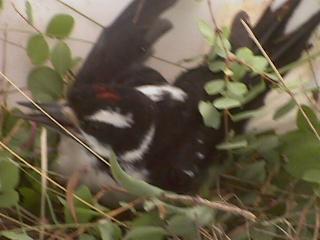 This is a juvenile woodpecker, but looks much like its adult counterparts. It was making a racket just outside our door with its chirping, calling for food from its mother.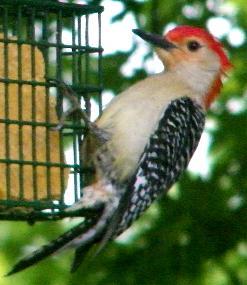 Here is a mature red-headed woodpecker at the suet feeder. This photo was by Amos. I tried to get a shot of a pileated woodpecker but he was too camera-shy. The pileated woodpeckers are the biggest of the woodpeckers; you can usually hear them hammering treetops with their heavy head before you see them.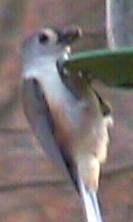 This Tufted Titmouse is a regular visitor at our birdfeeder in southern Illinois. The Titmouse is very furtive, and will not come unless there are no other birds at the feeder.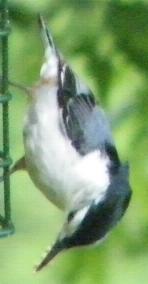 The Nuthatch with its long beak and typical upside down pose! (Photo by Amos.)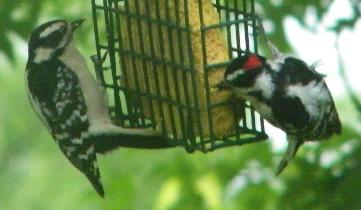 Another visitor to the feeder is the Downy Woodpecker, one of the smallest of the woodpeckers. (Photo by Amos)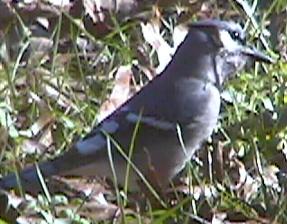 I have seen only a very few of these kind of Jays in urban areas of Denver, but they are common where I grew up in Birmingham, Alabama, and they are common where I now live in Carbondale, IL. The Eastern Jay competes with smaller birds for food and can be quite a bully.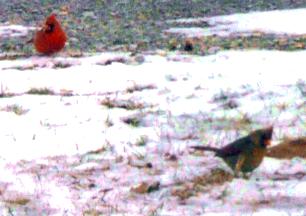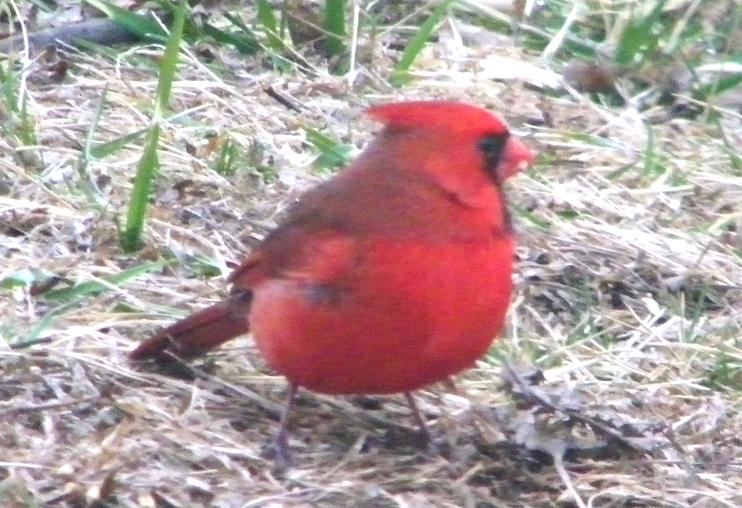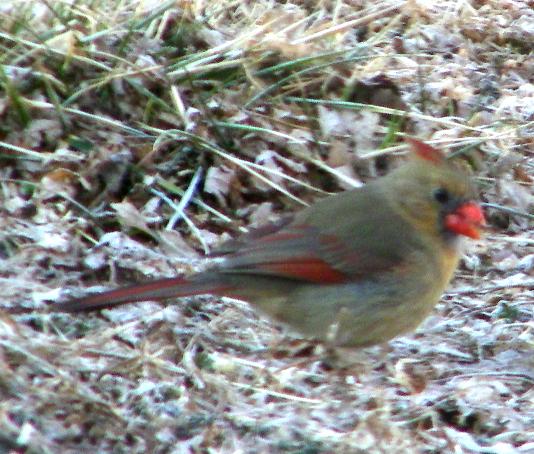 Another bird I grew up with in Alabama and which I missed seeing in Colorado was the Cardinal. From the finch family with a penchant for eating seeds, this bird enlivens its surroundings with its brilliant color and warbling song.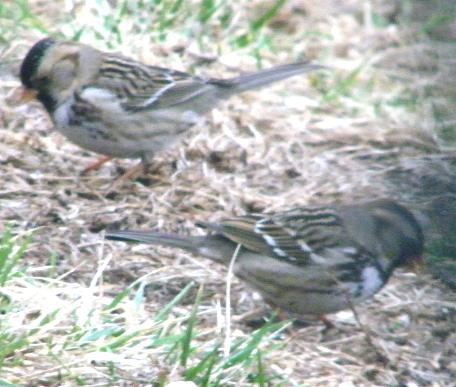 What list of birds would be complete without the sparrow? This chirping sparrow male and female was photographed by my son Peter.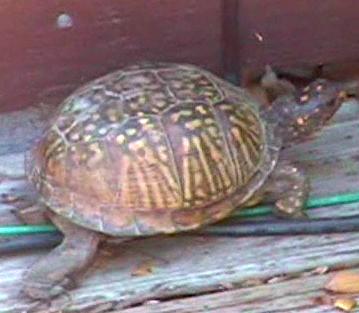 My six-year-old daughter found this turtle in the woods and carried it to our back porch, where it was promptly photographed by my eight-year-old son!
Where there are plenty of trees that aren't evergreens, the sound of summertime is that of the noisy cicada! It makes its buzzing sound by popping stiff plates on either side of its head in and out with muscles attached to the middle of the plates. This one was resting on the comfrey plant in our garden.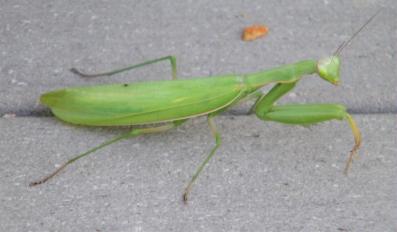 Speaking of interesting bugs, here's a Praying Mantis. Usually found on tree trunks or walls, this slow-moving creature is not actually praying but is rather preying - waiting for a bug to eat.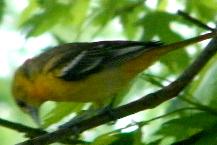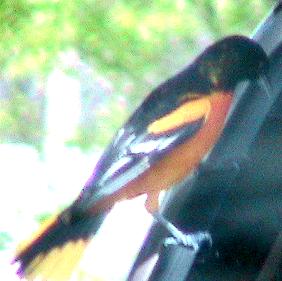 This male oriole fought with his reflection in the windshield of our car for about half an hour! At one point, his mate (right) perched on the antenna of the car to watch. She was more of a pale yellow-grey color. Their song is a very simple, plaintive chirp.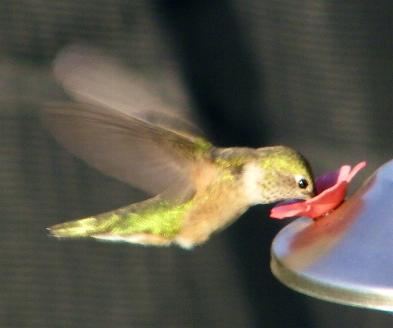 I finally got a camera with a high enough shutter speed to photograph a hummingbird! In this picture he is using his wings to hover with his long beak inside the feeder. Then with a sharp chirp and a buzzing of wings he disappears.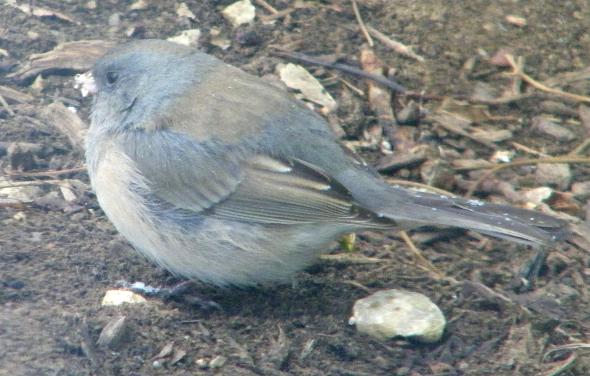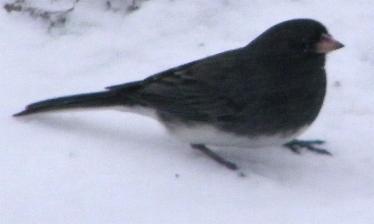 These industrious little birds migrate into the USA for winter from Canada. In this photo, they are scratching around on the winter ground for bits of vegetable matter to eat. There are at least two variations, the Slate grey kind (left) and the Oregon kind with brown highlights (right). (Photos by Amos.)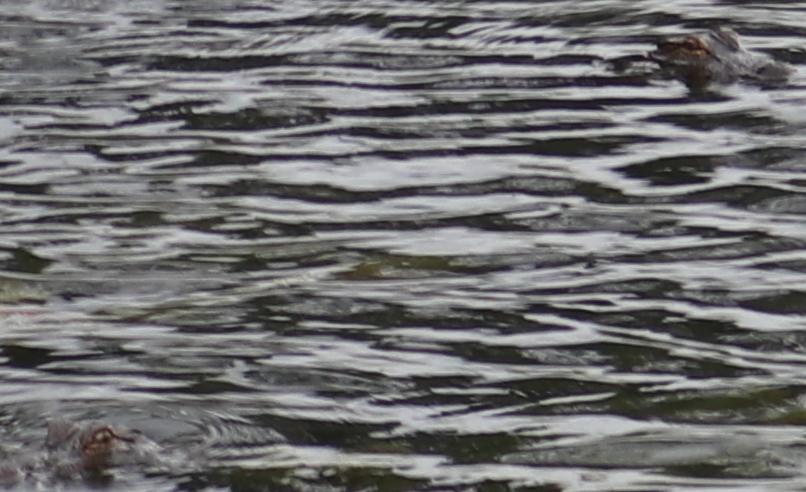 These two alligators (top right and bottom left) were poking their heads just above water to keep an eye on my family which was on the shore during a visit to Charleston, SC (Photo by Irene.)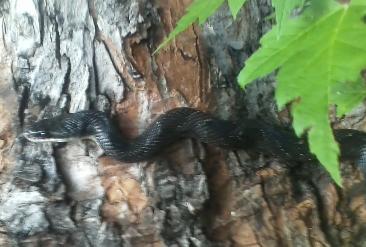 We watched this four foot long black snake crawl vertically up the trunk of our maple tree, somehow clinging to irregularities in the bark to keep from sliding.



To see my wildflower collection, click here and follow the link!
---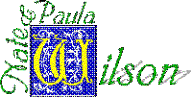 Return to Nate & Paula Wilson's Homepage