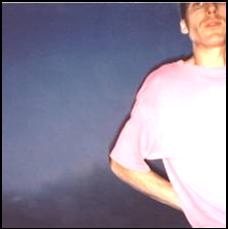 Acoustic
Midwifery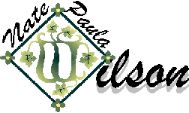 Click Here to Order the Tape or CD.
Most of my previous work has been recording songs that came from my head, but this album is composed entirely of music that came out of other people's heads. A midwife is someone who is "with a wife" when she has a baby, helping both baby and mother make the tran­sition  of birth. Sometimes this happens with music, too. In fact, as I was putting together the music I had recorded in the year 2001, I realized that in every song, I had acted as a "midwife" to get the song out of one context and into another – either out of the context of a previously-made recording or out of the head of one of my children or a co-worker. So, although none of the material is original to me, it still bears my fingerprints as the "midwife." Contact me if you'd like a copy on tape or CD. You can also listen to samples by clicking on the song titles. ~Nate Wilson
By Nate, Josh, & Beni Wilson ©2001 - Inspired by driving from Grand Junction, CO to Denver on 21 Feb. 2001. The chorus was composed by Josh before we took that drive, actually, but after the drive, when I sat down to put my thoughts on paper, Josh and Beni helped me think of rhyming words for the verses, and Josh contributed his chorus to the song. The mando­lin sample was played by Josh, the Bass sample was played by Beni, and the drum sample is from the Sonic Foundry library. I did the banjo, Mandolin lead, and guitar and lead vocal, and Josh, Beni, and Amos joined me in singing the chorus.
This grey ribbon of road stretches to the azure sky,
Piercing through the whiteness of the highest peaks.
Sage and ferrous rock on the mottled ground flash by;
The winding river, flashing green, the valley seeks.
In every changing hue,
I am reminded of You
And I praise You, Maker of Earth;
And I praise You, for You are my God!
And I praise You, matchless in worth -
I praise You, Jesus!
To my Right, the river splashes rocky shoals,
Melted from the stillness of the highland snow.
In time it will flow smooth and deep through canyon walls,
Pocked with the evidence of floods from long ago.
In all of these things, too,
I am reminded of You.
From the barren shoulders of the Western buttes,
To the stiletto firs that cloak the Front Range high,
From wide-open spaces where you see for miles the routes,
To canyon walls that close and stretch up to the sky
No matter what the view,
I am reminded of You.
During Family Devotions in the year 2000, we studied the Book of Revelation in the Bible. Josh composed this song based on what we read, and I helped polish the song up. Josh is the lead singer, and I added my trumpet and recorder and a drumbeat from Sonic Foundry's library. The last chorus is accompanied by the instrumental section of a recording of the Battle Hymn of the Republic on an album entitled Masterworks.
My eyes have seen the glory
of the coming of the Lord;
He is clad in all his radiance,
our rejoicing knows no bounds!
He has come to judge the peoples
with His justice and His truth,
And we may praise the Lord!
Glory, glory halleluiah!
Lady Babylon is fallen.
Bad men grieved at her ruin,
But Christians will rejoice!
My eyes have seen the burning
of the evil Lucifer;
He was bound with chains 1,000 years,
his demons are with him.
They were cast into the lake of fire
which burns forevermore,
<![if !vml]>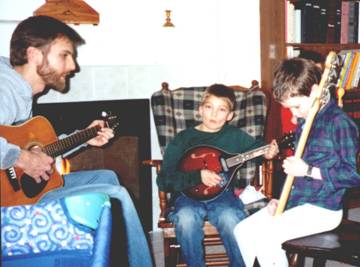 <![endif]>And God reigns over all!
The first half of this melody is an old Irish tune, and the second half comes from Severus Gastorius' "Was Gott Tut" melody from the 1600's. Josh played Jew's Harp, Beni played Bass, and I played Banjo, Recorder, Guitar, spaghetti-noodle-on-a-cookie-tin brush snare, and kick-the-firewall-of-our-Ford-van bass. That's Amos whistling at the end.
Decir Y Vivir La Verdad
by José Artura Gleason Espíndola of Mexico. He taught me this song and we performed it together at the Post-Urbana International Student Conference, January 2001, along with Dan Lockwood. The song was entirely in José's head, so Paula helped me translate it into English and I wrote it all out with guitar chords and made this recording.
Tiempos difíciles nos ha tocado vivir
We have all gone through tough times
El mundo avanza y no para de cambiar
The world goes on and it's always changing
Y vacío no deja de existir
The void remains – it's always there
Y me pregunto ¿qué podemos hoy hacer?
And I wonder what can we do today?
Debemos decir y hacer la verdad
We should speak and live the truth
Debemos orar y nunca parar
We should pray and never stop
Debemos amar sin condición
We should love unconditionally
Debemos ganar a la universidad
We should win the campus for the Lord.
También tu escuela necesita del Señor
Your school also needs the Lord
De tu constancia y tu consagración
Your endurance and your commitment
La oportunidad tienes no la dejes ir
Today you have the chance – don't let it go
Dile al Señor conmigo cuentas de corazón
Stand with me and say,
"My heart is ready, Lord!"
This came entirely out of son Beni's head (8 years old at the time). The drum tracks came from Sonic Foundry, I did the synth and trumpet, and the vocals and stomping were me with my kids, Josh, Beni, Amos, Peter, Grace, and Irene.
We march north, south, east, and west
Proclaiming Jesus where e'er we rest.
When we do our best
God will make us blessed!
We march through Yemen, India,
Canada, and through Zambia.
N'er  will we stop
'til Jesus name reaches the lost
<![if !vml]>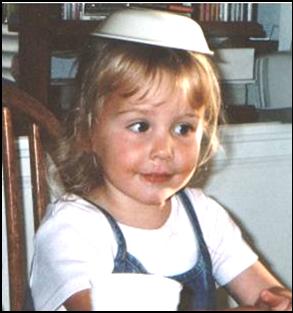 <![endif]>We will n'er rest
'til we reach Jesus nest!
This is a composition that Josh, Beni, Amos, Josh, and I put together in 2000, cutting and pasting pre-fab tracks from an industrial music program called Acid Style.
I just stood Grace (age 3) in front of the microphone, asked her to sing a song, and punched the record button. This is a totally extempora­neous composition, typical of what we hear all day long from our little songbird!
The Magic Farmer
Shortly after the late Michael Hedges' Arial Boundaries album came out in 1984, I heard his song "The Magic Farmer" on the radio and immediately sat down and figured out from memory how to play it on my guitar. I didn't even know the name of the song. Some 15 years later, a friend gave me the album, and when I heard the song off the album and realized it was the song I had been playing and wondering about for all those years, it felt like a reunion of sorts! © Windham Hill Records, 1984.
In memory of Memo, who passed away November 17, 2001. I composed this in my head as I was driving back from the funeral. I was espe­cially touched by Grandaddy looking into the casket and saying "It just looks like she's sleeping." How would if feel to lose your wife to whom you'd been married over 60 years?
Lillian, Lillian
You have left and gone away, Lillian
Though I know you could not stay,
We will meet again some day -
In the sweet bye and bye, Lillian.
Lillian, Lillian
It just looked like you were sleeping, Lillian
Though we put you in the ground,
Well we knew you're heaven-bound
Lillian, Lillian, Lillian
Lillian, Lillian
There's a hole now in our hearts, Lillian
Though we grieve that you are gone
Still we know your fire lives on
Lillian, Lillian, Lillan
This probably wins the prize for the most tracks I've ever used in an song! It's an old cowboy classic we first heard from the Flying "W" Wranglers in Colorado Springs, and we identified with this song because we have felt the same tension the composer did between our work in Colorado and our family back in the South. I used Sonic Foundry's canned drums and played banjo, mandolin, guitar, Jews Harp, and Bass. My son, Josh, did a fantastic job on the lead vocal, and I did BGV's.
<![if !vml]>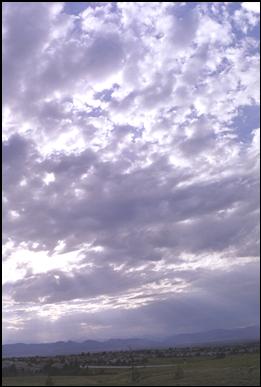 <![endif]>Sometimes I can lay there in my bedroll

With the smell of bacon frying on the fire

The morning dew all beaded on my blanket

Slept all night and woke up just as tired

Because my old saddle's not as soft a pillow

As the Summer clouds slowly rolling by.

I can almost make out faces I remember

Staring up at that old Colorado sky

I can see you there by the weepin' willow tree,

Brushing back your hair and laughing at me.

And you're just as clear as teardrop in my eye,

Starin' up at that old Colorado sky.

I can sit and sip on my last cup of coffee

Feel the coolness of the gentle nighttime breeze.

The campfire coals are glowing in the darkness,

Burning down like some old memories

Then I lay back down and look at the pic­tures

Being painted by a million stars on high,

And it takes me through the stories of a lifetime

Starin' up at that old Colorado sky.

LillySong

I create a special song for each of my children, the first six of which are on my For the Kids album, but this one is for my little Lilly. Thanks to Nathan Clark George for playing banjo and guitar and engineering the recording. ©2002 Nate Wilson.

From the words of Jesus in Matthew 11:28-29. Melody ©2002 Nate Wilson. Piano and voice by Paula Wilson

Come unto Me all you who labor,

and I will give you rest.

Come unto Me, all who are laden,

and I will give you rest.

Take My yoke upon you and learn of Me,

For I am meek and lowly of heart.

Come unto Me all you who labor,

and I will give you rest.

<![if !vml]>

<![endif]><![if !mso]>

<![endif]> <![if !mso]>

<![endif]><![if !mso & !vml]> <![endif]><![if !vml]>

<![endif]>While reading Hannah Hurnard's book, Hinds Feet on High Places to my children, I put some of the poetry to music. Here's the tune I made for Hurnard's versification of Canticles 8:6-7.

Set me as a seal upon thine heart,

Thou Love more strong than death,

That I may feel though every part

Thy burning fiery breath.

And then like wax held in the flame,

May take the imprint of thy Name.

Set me as a seal upon thine arm,

Thou Love that bursts the grave,

Thy coals of fire can never harm,

But only purge and save,

Thou jealous Love, thou burning Flame,

Oh burn out all unlike thy Name.

The floods can never drown thy Love,

Nor weaken thy desire,

The rains may deluge from above,

But never quench thy fire.

Make soft my heart in thy strong flame,

To take the imprint of thy Name.

What A Friend/Praise My Soul

This medley of modern hymns, starts with Rowland Pritchard's tune "Hyfrydol" ("Jesus What a Friend for Sinners") and ends with Mark Andrews' new tune to the classic Lauda Anima ("Praise My Soul The King of Heaven.") Guitar arrangement ©2002 Nate Wilson.

<![if !vml]>

<![endif]><![if !mso]>

<![endif]> <![if !mso]>

<![endif]><![if !mso & !vml]> <![endif]><![if !vml]>

<![endif]>©2002 Beni Wilson. My 9-year-old son, Beni composed this lovely little lullabye - that's his voice you hear on the recording. I arranged a piano accompaniment for it, and had both of us sitting on the piano bench to record the piano part - Beni playing the bass notes and me playing the high notes. Oh yes, the final phrase is sung by 3-year-old Grace Anne.

Jesus is high above the sky

He feeds his sheep near waters deep

Through sun and rain above the plain

Jesus is high above the sky

Jesus is high deep through the night

He tends his sheep when there're asleep

All through the night 'till morning light

Jesus is high deep through the night.

Acoustic Midwifery Album ©2001 Nate Wilson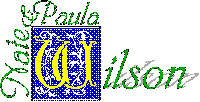 Click here to request a tape or CD from Nate.