NATE WILSON'S GOSPEL-CENTERED LIVING SERMON SERIES:
#1 "Beyond the Wicket Gate: A paradigm for Christian maturity" Notes | Audio
#2 "Sonship: Remembering Your Justification and Adoption" Notes | Audio.
#3 "The Christian & The Law of God" Notes | Audio
#4 "True Repentance" Notes | Audio
#5 "Sanctification" Notes | Audio
#6 "God's Grace Moves Inside Out" Notes | Audio
#7 "Forgive As..." Notes | Audio
#8 "From Pride to Humility" Notes | Audio
#9 "Grace in Conflict" Notes | Audio

This sermon series is based on the Bible Study written by Bob Thune and Will Walker, The Gospel Centered Life which, in turn, is based on Jack Miller's Bible Study entitled Sonship, both of which are published by New Growth Press. I have intentionally adapted the content to be broader in scope, more exegetical in nature, and more applicable to my particular church situation.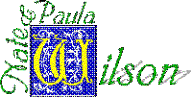 Return to Nate & Paula Wilson's Homepage